Apricot Power T-Shirt
Apricot Power T-Shirt
Please enter your color and size selection in the customer comments at checkout! Sizes are S -XXL. Colors are Aqua, Green, Orange, Purple, Red or Gray. *
Size: 1 T-Shirt
Smart Savings!
37% off ($9.49 ea) for 2 or more
40% off ($8.99 ea) for 3 or more

Add to Cart
As we go into our 19th year in business, we thought we'd turn the
clock back a few years and introduce some wearables with a retro look.
Introducing our new t-shirts and caps. These tees are made of interwoven,
super soft, 100% combed and ring-spun cotton and premium polyester
yarn on a soft heather background in six different colors - red, orange,
green, aqua, purple, and athletic gray. The cap is a heather gray trucker's
cap designed to go with all of our t-shirt colors.
* Please note that color shades may vary according to screen settings.

Customers who bought this product also bought:
Apricot Power B17/Amygdalin 500mg Capsules
500 mg | 100 Capsules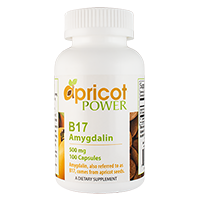 Price:
$97.99
$89.99
You save $8.00 (8%)
minimum purchase required

(?)
Add to Cart
Bitter Raw Apricot Seeds, 10 lbs
Price:
$259.80
$129.99
You save $129.81 (50%)
minimum purchase required

(?)
Add to Cart
We Ship Fast! Same Day Shipping! Located In The United States!
Laboratory Tested & Verified Product! B17 Rich Bitter RAW Apricot Seeds!
100% Money Back Guaranteed!
Call Us Toll Free: 1-866-468-7487