CoQ10
CoQ10
A coenzyme that helps support cardiovascular health, mental functions, a healthy response to free radicals, energy production, and immune response.
Size: 100mg | 50 softgel capsules
Price:
$22.99
$19.99
You save $3.00 (13%)
minimum purchase required

(?)
Smart Savings!
5% off ($18.99 ea) for 2 or more
10% off ($17.99 ea) for 3 or more

Add to Cart
CoQ10 is actually a coenzyme, a compound which must be present for an enzyme to function. This compound is produced naturally in the body and is concentrated in most major organs, especially the heart.
CoQ10 is best known for its ability to support cardiovascular health, but CoQ10 is also helpful in the support of other functions performed in the body. It metabolizes fats and carbohydrates in the mitochondria, the energy production center of all cells, helping generate cellular energy and ultimately helping support energy levels in the body.
Why is it a good idea to supplement with CoQ10?

As we age, the body slows down its natural production of CoQ10. CoQ10 is something our body wants to supply us with but may not be able to.
Maintaining the proper levels of CoQ10 is necessary to our long-term health and:
Helps maintain flexibility of cell membranes
Supports tissue oxygenation
Supports the immune system
CoQ10 can be supplied in the diet but may be beneficial in amounts larger than can be obtained from food. It is found in:
Meat/ fish
Vegetable oils: soybean, olive, grapeseed
Avocado, spinach, parsley
Some nuts/seeds
Supplementing with CoQ10 has been shown to be safe at high doses.
*Supplementing with CoQ10 may not be for everyone. It may interact with Statin prescription drugs. Diabetics need to monitor glucose levels closely while taking CoQ10.
Suggested Use: One softgel 1 to 2 times daily, preferably with meals. For additional support, take up to three softgels daily.
Nutrition Facts
---
50 servings per container
1 softgel
Serving Size
---
Amount per serving
Not listed
Calories
---
Not listed
Calories From Fat
---
% Daily Value*
---
†
Coenzyme Q10
100 mg
(CoQ10)
---
100%
Vitamin E
30 IU
(from mixed Tocopherols) (soy free)
† Daily Value not established.
*Percent Daily Values are based on a 2,000 calorie diet.
Customers who bought this product also bought:
Super B-15 TMG
100 Veg Caps
Price:
$44.99
$39.99
You save $5.00 (11%)
minimum purchase required

(?)
Add to Cart
Apricot Power B17/Amygdalin 500mg Capsules
500 mg | 100 Capsules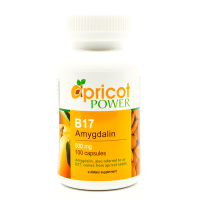 Price:
$97.99
$94.99
You save $3.00 (3%)
minimum purchase required

(?)
Add to Cart
We Ship Fast! Same Day Shipping! Located In The United States!
Laboratory Tested & Verified Product! B17 Rich Bitter RAW Apricot Seeds!
100% Money Back Guaranteed!
Call Us Toll Free: 1-866-468-7487