PSK-16
PSK-16
By carefully combining these mushrooms and fortifying them with extracts, our PSK16™ offers a complete mushroom blend.
Size: 60 tablets
Smart Savings!
29% off ($28.49 ea) for 2 or more
33% off ($26.99 ea) for 3 or more

Add to Cart
Suggestive Usage: 1 to 2 tablets twice a day between meals.
PSK-16™ is is a blend of mushroom mycelia and extracts from 16 of the most well-studied species of supportive mushrooms from around the world. Ancient cultures such as the Chinese culture have long relied on the helpful properties of mushrooms to help achieve and maintain wellness.
In case of the Reishi mushroom, this has been true, for over 2000 years. That makes this particular mushroom one of the oldest ones used therapeutically. Another example of the historic use of mushrooms is the Cordyceps fungi. It was first reported to be used to maintain well-being in the 15th century in Tibet.
The active ingredients in this complex formula have been tested for purity and safety and manufactured under the strictest quality controls. By carefully combining these mushrooms and fortifying them with extracts, our PSK16™ offers a complete mushroom blend that covers all the bases of comprehensive mushroom supplementation.
Contains no yeast, dairy, egg, soy or wheat, sugar, starch, salt, preservatives, artificial color, flavor, or fragrance. Contains mushrooms and gluten. Suitable for vegetarians.
Warnings: If you are pregnant, may become pregnant, or breastfeeding, consult your healthcare profession before using this product. Keep out of the reach of children. Do not take this product if you are allergic to mushrooms.
*These statements have not been evaluated by the Food and Drug Administration. This product is not intended to diagnose, treat, cure or prevent any disease.
Nutrition Facts
---
30 servings per container
2 tablets
Serving Size
---
Amount per serving
10
Calories
---
NA
Calories From Fat
---
% Daily Value*
---
1%
Total Carbohydrate
2g
---
†
Maitake Mycelia Biomass
200 mg
---
†
Proprietary Blend
1.29 g
Agaricus blazei Mycelia Biomass, Hericium Erinaceous Mycelia Biomass, Flammulina velutipes Mycelia Biomass, Artist's Conk Mycelia Biomass, Tremelia Mycelia Biomass, Schizophyllum commune Mycelia Biomass, Grifola umbellate Mycelia Biomass, Pleurotus ostreatus Mycelium Biomass, Cordyceps sinensis Mycelia Biomass, Cordyceps militaris Mycelia Biomass, Poria Sclerotium, Maitake Mushroom Extract, Turkey Tail Mushroom Extract, Cordyceps sinensis CS-40 (0.1% adenosine), Aqaricus blazei Mushroom Extract, Shiitake Mushroom Extract, Reishi Mushroom Extract, and Dr. Nanba's Maitake Beta Factor (beta glucan) Fraction
---
†
Reishi Mycelia Biomass
200 mg
---
†
Shiitake Mycelia Biomass
200 mg
---
†
Turkey Tail Mycelia Biomass
150 mg
---
167%
Vitamin C (as Ascorbic Acid)
100 mg
† Daily Value not established.
*Percent Daily Values are based on a 2,000 calorie diet.
Ingredients
Other Ingredients: Stearic Acid, Silica, and Modified Cellulose Gum.
Customers who bought this product also bought:
Apricot Power B17/Amygdalin 500mg Capsules
500 mg | 100 Capsules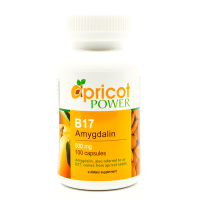 Price:
$97.99
$89.99
You save $8.00 (8%)
Add to Cart
We Ship Fast! Same Day Shipping! Located In The United States!
Laboratory Tested & Verified Product! B17 Rich Bitter RAW Apricot Seeds!
100% Money Back Guaranteed!
Call Us Toll Free: 1-866-468-7487