B17-Infused Anti-Aging Skin Care Combo Pack
B17-Infused Anti-Aging Skin Care Combo Pack
A combo pack containing one of each of our anti-aging B17 skin treatment products.
Add to Cart
Out of stock. If you order this item it will ship the day we have it in stock.
Introduction

Our new Anti-Aging Skin Care products are the world's first line of B17-infused skin care products. Made exclusively for Apricot Power, each hand-made product has been meticulously formulated to work together as an effective, 3-step anti-aging skin care program. There are no chemicals in our skin care products; only natural and organic ingredients, essential oils, and light, natural scents often found in more expensive skin care lines.

3-Step Skin Care System

Step One – Anti-aging Deep Cleaning Foaming Facial Cleanser: This rich, creamy, natural, foaming cleanser delivers the nourishing benefits of goat's milk and shea butter to your skin leaving it feeling soft and refreshed. The lactic acid present in the goat's milk gently exfoliates the skin while vitamins A. D and E promote healthy skin cell growth and turnover. The grapefruit essential oil adds a deep cleaning benefit along with an amazing fresh and uplifting feeling. And you get the added benefits of B17. (3.38 oz by volume)

Step Two – Anti-aging Skin Toner: AP skin toner deep cleans, feeds the skin, prepares it for nutrient absorption and closes pores as it dries. It is B17-infused and includes Organic Aloe Vera and a complement of other natural and organic ingredients for deep cleaning action. Ingredients like organic Green Tea, which has anti-inflammatory and antioxidant qualities have been added along with Organic Witch Hazel, a natural astringent, and Hawaiian Black Lava Salt, which also acts as an astringent. Apricot Power Anti-aging Skin Toner is a different way to get B17 into your body and the perfect complement to our skin care line. (4 fl. oz.)

Step Three – Anti-aging Skin Cream Treatment: Apricot Power's new and improved Anti-Aging Skin Cream Treatment is a unique product that's infused with the power of the apricot. B17 extract and apricot oil have been added to natural and organic ingredients to create a safe and effective anti-aging skin cream treatment. This skin cream is the final step in our skin care program and can be used as a day/night mask. It has a clean, pleasant smell and a creamy, luxurious texture that hints of a much more expensive skin care treatment, but available at a very reasonable price. (1.75 oz)


Key Attributes
3-step skin treatment program deep cleans, tightens pores, and moisturizes skin
Promotes healthy skin and cell growth
All formulas include only natural and organic ingredients
Anti-aging qualities
Infused with the power of B17
All skin care products are handmade exclusively for Apricot Power
Gluten-free, no sulfates, no parabens
Customers who bought this product also bought:
Apricot Kernel Oil
4 fl. oz.
Price:
$19.99
$11.99
You save $8.00 (40%)
minimum purchase required

(?)
Add to Cart
Apricot Power B17/Amygdalin 500mg Capsules
500 mg | 100 Capsules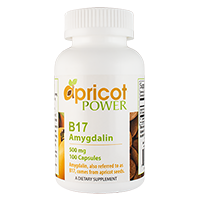 Price:
$107.99
$97.99
You save $10.00 (9%)
minimum purchase required

(?)
Add to Cart
We Ship Fast! Same Day Shipping! Located In The United States!
Laboratory Tested & Verified Product! B17 Rich Bitter RAW Apricot Seeds!
100% Money Back Guaranteed!
Call Us Toll Free: 1-866-468-7487