Coral Calcium
Coral Calcium
Size: 1000 mg | 100 Capsules
Smart Savings!
37% off ($9.49 ea) for 2 or more
40% off ($8.99 ea) for 3 or more

Add to Cart
Coral Calcium contains a number of trace minerals that are important for bone health, as well as for optimal enzymatic activity. Apricot Power Coral Calcium is not harvested from living coral reefs or even from the ocean environment, but from above-ground sources in Okinawa in an ecologically friendly manner.
Servings per container: 100
Suggested Use: As a dietary supplement, take 1 Vcaps® 2 to 3 times daily, preferably before meals with water.
Free of: yeast, wheat, gluten, salt, soy, milk or preservatives
Other Ingredients: Cellulose, Cellulose (capsule), Silica and Magnesium Stearate (Vegetable source)
Disclaimers: This statement has not been evaluated by the FDA. This product is not intended to diagnose, treat, cure or prevent any disease.
Supplement Facts

Amount Per Serving

% Daily Value

Calcium (from Fossilized Coral Calcium)

350 mg

35%

Fossilized Coral Calcium

1.0 g (1,000 mg)

*

* Percent Daily Values are based on 2,000 calorie diet.
† Daily Value not established.
Customers who bought this product also bought:
Apricot Power B17/Amygdalin 500mg Capsules
500 mg | 100 Capsules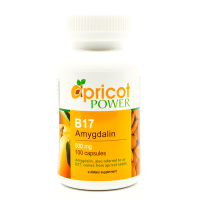 Price:
$97.99
$94.99
You save $3.00 (3%)
minimum purchase required

(?)
Add to Cart
We Ship Fast! Same Day Shipping! Located In The United States!
Laboratory Tested & Verified Product! B17 Rich Bitter RAW Apricot Seeds!
100% Money Back Guaranteed!
Call Us Toll Free: 1-866-468-7487