Product Summary:
Our bitter and raw California grown apricot kernels have not been processed in any way that will affect their nutritional value, this ensures that the apricot kernels retain their high levels of B17, natural enzymes and B15.

WILL MATCH ANY PRICE!
Order More & Save!!
Buy 2 and pay only $18.95/ea 5% off!
Buy 3 and pay only $17.95/ea 10% off!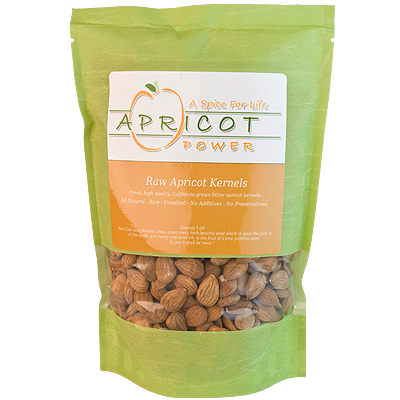 What is B17?
B17 is a substance found naturally in over 1200 different foods, including the seeds of many kinds of fruits, such as apricots, plums, cherries, oranges, nectarines, apples and peaches, as well as many raw nuts. Our natural B17 supplement is extracted from apricot kernels. B17 was the name given to the purified form of the molecule by a biochemist named Ernst T Krebs in 1952. B17 is a natural product found in over 1,200 foods. Today it is extracted from apricot seeds/kernels.

Why is B17 Important?
We believe that a balanced diet is essential to a healthy life. Few of us consume enough vitamins and minerals from the foods we eat. Nutritional supplements become necessary for optimal body function. B17 is just one of the many nutrients our body needs.
B17 Found in Hundreds of Foods!
In addition to apricot seeds, B17 is found in wild blackberries, wild crabapples, elderberries, apple seeds, cherry seeds, nectarine seeds, peach seeds, pear seeds, plum seeds, prune seeds, fava, bamboo, alfalfa, eucalyptus and cassava. Other foods that contain lesser amounts of B17 are boysenberries, huckleberries, raspberries, strawberries, squash seeds, black beans, black eyed peas, lentils, lima beans, kidney beans, garbanzo beans, cashews, macadamia nuts, spinach, watercress, sweet potatoes and yams.

Why Apricot Kernels?
Of all the foods containing B17, the apricot kernel has been found to have one of the highest levels, in addition to containing B15 and enzymes.

Ways to Enjoy the Apricot Kernel
Some people like the bitter, amaretto like flavor when eaten alone, while others do not. Popular ways to enjoy apricot kernels include: dipped in honey; inside a dried apricot; ground and sprinkled on a sandwich or salad; in a blended drink or added to trail mix. For those that prefer a sweeter option see our website for Apricot Kernel Bars and Toffee.

What is the Shelf Life of Kernels?
The shelf life of apricot kernels at room temperature is four months but if kept in a cool dry place it is about a year.
Nutrition Facts Serv. Size: 3 Kernels
Calories 10, Fat Cal. 10, Total Fat 1g (2% DV), Cholest. 0mg (0% DV),
Sodium 0mg (0% DV), Total Carb. 1g (0% DV) Sugars 0g,
Protein 1g, B17 (Amygdalin) 30mg (* DV)
Percent Daily Values (DV) are based on a 2,000 calorie diet.
Ingredients: Apricot Kernels

Not intended for children or women who are pregnant or nursing.