Elderberry Syrup - 4 oz
Elderberry Syrup - 4 oz
This natural immune defense formula is a throat soother and contains only good-for-your-throat ingredients
Size: 4fl oz. (118.28 ml)
Add to Cart
Elderberry has been used in herbal traditions for centuries. Today elderberry has been found to promote a balanced immune response, possibly through affecting macrophage activity.
Elderberry– 200 mg of Sambucus Nigra to provide powerful immune system defense, especially at the start of an immune system challenge*
Echinacea – 200mg of this targeted immune support* herb
Mullein Leaf – Promotes throat comfort*
Vitamin C – Provides a small pop of extra antioxidant support*
Plus Throat-soothing Plant Oils – Peppermint, eucalyptus, thyme, and myrrh*
Customers who bought this product also bought:
Organic Bitter Raw Apricot Seeds - 16 oz.
16oz Bag / Approximately 750 Seeds
Price:
$24.99
$19.99
You save $5.00 (20%)
minimum purchase required

(?)
Add to Cart
Apricot Power B17/Amygdalin 500mg Capsules
500 mg | 100 Capsules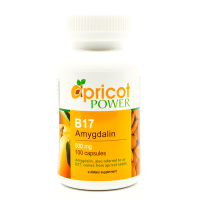 Price:
$97.99
$94.99
You save $3.00 (3%)
minimum purchase required

(?)
Add to Cart
We Ship Fast! Same Day Shipping! Located In The United States!
Laboratory Tested & Verified Product! B17 Rich Bitter RAW Apricot Seeds!
100% Money Back Guaranteed!
Call Us Toll Free: 1-866-468-7487