$10 Apricot Power Gift Card
$10 Apricot Power Gift Card
Give the gift of good health!
Free Shipping to US!
(excludes Hawaii and Alaska)
Add to Cart
Customers who bought this product also bought:
Apricot Power B17/Amygdalin 500mg Capsules
500 mg | 100 Capsules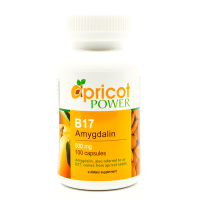 Price:
$97.99
$89.99
You save $8.00 (8%)
minimum purchase required

(?)
Add to Cart
We Ship Fast! Same Day Shipping! Located In The United States!
Laboratory Tested & Verified Product! B17 Rich Bitter RAW Apricot Seeds!
100% Money Back Guaranteed!
Call Us Toll Free: 1-866-468-7487