Attention Chocolate Lovers This Recipe Is Addictive!
3 Years Ago | By Apricot Power
Recipes • Recipes (Creative)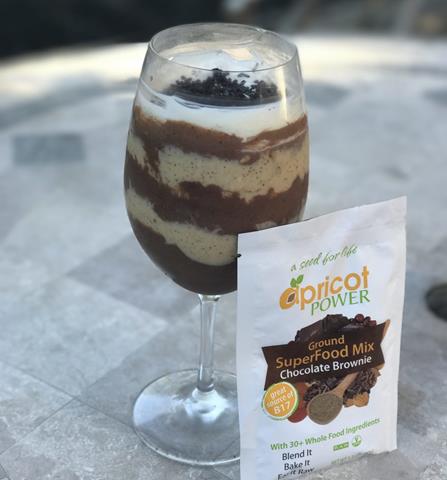 Makes 7 parfait cups
Ingredients:
16oz cream cheese (softened)
2 cups powdered sugar (sifted)
2 tsp vanilla extract
1/4 cup heavy cream
1 package Apricot Power Chocolate Brownie Superfood Mix
1/2 cup cocoa powder
Whipped Cream
Chocolate Sprinkles (optional)
Pinch of salt
Directions:
In the bowl of a stand mixer fitted with a paddle attachment, mix together cream cheese until light and fluffy (about 4 minutes)
Mix the powdered sugar into the cream cheese (1 cup at a time)
Add vanilla extract, salt, and heavy cream. Whip till fluffy
Separate cheesecake mixture evenly into 2 bowls
Pour Apricot Power Superfood Mix into blender and blend till fine
Sift the ground up mix into each cheesecake bowl
With a spatula mix each bowl of cheesecake with a SuperFood Mix. Add cocoa powder to Chocolate flavored cheesecake.
Take a large glass and spoon each flavor on top of one another until filled to top. Spray whipped cream on top of cheesecake add sprinkles if you desire.
Ryan Wilson
"I wanted to create a healthy dessert but at the same time encapsulate the flavor of a rich cheesecake. After extensive experimentation with the SuperFood mixes, I decided upon a parfait dessert, which uses both caramel and chocolate. What I love about this dessert is its simplicity. From start to finish, this dessert only took me about 15 minutes to make!"