A Healthy Summertime Icebox Cookie Sandwich Recipe
By Apricot Power
Recipes (Creative)
Ingredients:
Caramel Cookie
¾ cup Coconut Flour
¼ cup Apricot Power Caramel Superfood Mix (30+ superfoods, 15g Protein)
1 ½ tsp Baking Powder
¼ tsp Salt
6 tbs Unsalted Butter
1/3 cup Coconut Oil
¾ cup Coconut Sugar
3 Eggs
1 tsp Pure Vanilla Extract
Espresso Filling
1 cup Coconut whip topping
8 oz Greek cream cheese
2 tsp espresso powder
¼ cup confectionery sugar
Directions:
Whisk together coconut flour, baking powder and salt in a medium bowl.
In a separate bowl, beat butter and coconut together, add coconut sugar and beat until well blended. Add eggs and vanilla and beat well.
Add dry ingredients to wet ingredients, beat until well combined.
Use ice cream scoop to form dough balls, hand roll till smooth and flatten down onto ungreased cookie sheet or silicon mat.
Bake at 375 degrees for 10-12 minutes or until browning on sides. Cool on the cookie sheet for half hour then transfer to refrigerator to cool.
In a stand-up mixer blend Greek cream cheese, espresso powder, and sugar until well mixed. Fold in the coconut whip topping until well incorporated.
When cookies are cooled thoroughly place desired amount of filling between cookies. Wrap cookies in plastic wrap and place in freezer.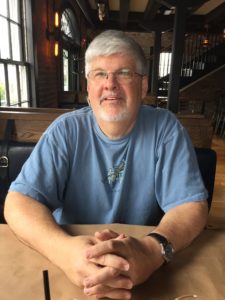 Second Place Winner (Creative) - Kevin Towle - Caramel Espresso Latte Icebox Cookies Sandwich Recipe
Kevin Towle
"When I saw this recipe contest I was reluctant to enter because I have never thought about creating healthy recipes for others to eat. I mean I like to eat healthy and I like healthy recipes, but could I create one that would be easy, quick and taste good? I think I have. This is my take on an ice cream sandwich with a different twist on flavors - Caramel, Coconut, and Espresso. I hope you enjoy it because I did!!"