Product Summary:
Based on your favorite products to accompany our B17 500mg supplement, we have put together this combination pack to help you save time and money. These items all work together with B17 to help your body thrive.
Buy Together & Save!!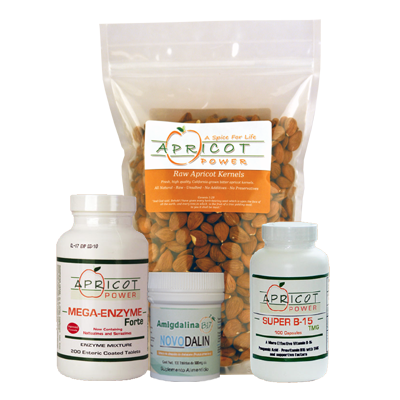 B17 Essentials 500 comes with these items...
2 lb Bag of Apricot Kernels
Our bitter and raw California grown apricot kernels have not been processed in any way that will affect their nutritional value, this ensures that the apricot kernels retain their high levels of B17.
500 mg B17
B17 comes from extracting natural B17 from apricot kernels.
Mega Enzyme Forte
A potent blend of both plant-based and animal-derived pancreatic enzymes to assist the body in detoxification and other metabolic processes. Specifically designed for to work with our B17!
Super B-15 TMG
According to Dr. Ernst Krebs, B15 (Pangamic Acid) increases the oxygen efficiency of the entire body and aids in the detoxification of waste products. B15 can be found in the apricot kernels.
Do you prefer tablets over capsules? No problem, just tell us in the customer comments during check out.