Product Summary:
Bone Power is a comprehensive bone support product providing 4,000 mg of MCHA. It also contains Magnesium and Trace Minerals, as well as Vitamins C, and Vitamin D.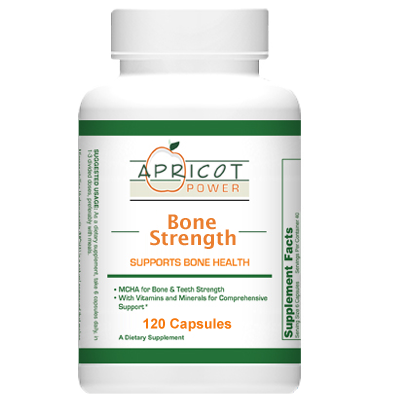 Bone Power Mycrocrystalline Hydroxyapatite (MCHA) Formula is a natural compound that makes up the crystalline matrix of bone and teeth, and is the substance that gives them their rigidity. MCHA is a highly absorbable Calcium and Phosphorus, which are the major mineral components of bone.
Suggested Use: As a dietary supplement, take 6 capsules daily, divided in 1 - 3 doses, preferably with meals.
Other Ingredients: Cellulose, Gelatin (capsule), Magnesium Stearate, Stearic Acid and Silica.
Caution: Please discard the inedible freshness packet enclosed.
Disclaimers: *This statement has not been evaluated by the FDA. This product is not intended to diagnose, treat, cure or prevent any disease.
Supplement Facts

Serving Size 6 Capsules

Servings Per Container 40

Amount Per Serving

% Daily Value

Calories

10

Total Carbohydrate

<0.5 g

<1%*

Protein (from MCHA and AAC)

1.8 g (1,800 mg)

4%*

Vitamin C (from Magnesium Ascorbate)

200 mg

330%

Vitamin D-3 (as Cholecalciferol)

400 IU

100%

Vitamin K-1 (as Phytonadione)

100 mcg

125%

Vitamin B-1 (from Thiamine HCI)

5 mg

330%

Calcium (from MCHA)

1.0 g (1,000 mg)

100%

Phosphorus (from MCHA)

430 mg

43%

Magnesium (from Magnesium Oxide and ascorbate)

600 mg

150%

Zinc (from Zinc AAC)

10 mg

70%

Copper (from Copper AAC)

1 mg

50%

Manganese (from Manganese AAC)

3 mg

150%

MCHA (Microcrystalline Hydroxyapatite)

4.0 g (4,000 mg)

*

Glucosamine Potassium Sulfate Complex

300 mg

*

Horsetail (Equisetum arvense) (Aerial parts)

100 mg

*

Boron (From AAC)

3 mg

*

* Percent Daily Values are based on 2,000 calorie diet.
Daily Value not established.