Product Summary:
Thyroid Health is a revitalizing supplement that supports a healthy thyroid to ensure positive wellbeing. This beneficial supplement is created from blending the best nutrients which are known for their ability to support thyroid health. The formula includes Tyrosine and Iodine, which is derived from kelp. These two vital elements are in natural thyroid hormone. Thyroid Health also contains minerals such as Zinc, Copper, and Selenium, which boost thyroid hormone production. The list of beneficial ingredients does not end here. This supplement also has the popular Guggul Extract, which is an Ayurvedic herb long known for its importance for a healthy metabolism.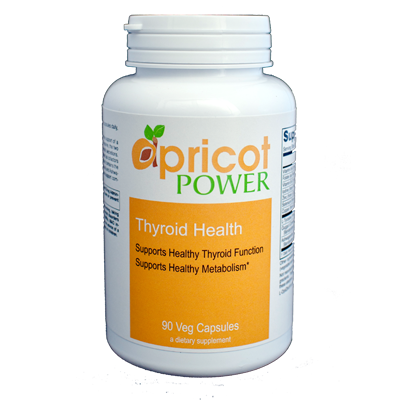 Thyroid Health Is Key to Vitality
The thyroid gland plays a pivotal role in the endocrine system. It supports several essential processes within the body, the main one being metabolism. Even a slight drop in thyroid hormone output, if left unattended for an extended period of time, can have detrimental effects on human health. The easiest way to define what thyroid hormone does for the body is to think of it as fuel. This fuel is burned at a certain rate and if there is not a sufficient amount of it in the body, the body cannot perform to its fullest extent. So in order to let our body perform its functions to its maximum potential, it is important to ensure that the thyroid is working and secreting hormone at an optimum level.
Aging Decreases Thyroid Hormone Production
Aging has shown to significantly decrease the production of thyroid hormone in the body. This means the fuel needed by our body may run low when we need it most. That is why the consumption of Thyroid Health can ensure that the body sustains healthy levels of thyroid hormone so we can go on living our lives normally.
Maintain Optimal Weight
There is no doubt about the importance of thyroid hormones in controlling weight. Since our metabolism regulates many other functions in the body, it also controls our weight. A healthy thyroid is vital for us to maintain the perfect body weight. As mentioned previously, the production of thyroid hormone slows down as we age, which is why we usually gain more weight as we get older. That's why the intake of Thyroid Health supplement can ensure we maintain the correct weight for our body, regardless of how old we are.
Suggested Use
Thyroid Health is to be taken as a dietary supplement. It is recommended to take 2 Vcaps a day either right before meals or on an empty stomach.
This product is free from the following:
• Salt
• Sugar
• Egg
• Yeast
• Corn
• Wheat
• Gluten
• Soy
• Milk
• Preservatives
100% vegetarian formula!

Caution


It is important to throw the inedible freshness packet inside the box away. If your doctor has prescribed you any MAO inhibitors, thyroid medications, or anti-depressants, please discuss the intake of Thyroid Health with your physician prior to use. This statement has not been recognized by the FDA and this product is not intended to treat, diagnose, prevent, or cure any disease.
Serving Size: 2 Vcaps

Suggested Use: As a dietary supplement, take 2-Vcaps® 2 times daily, on an empty stomach or just before meals.

Free of: sugar, salt, starch, yeast, wheat, gluten, corn, soy, milk, egg or preservatives

Other Ingredients: Cellulose (capsule), Magnesium Stearate (vegetable source), Cellulose and Silica. Vegetarian Formula.

Caution: Please discard the inedible freshness packet enclosed. If you are currently taking any thyroid medications, MAO inhibitors, or any other type of anti-depressant medications, please consult your health care practioner prior to use. Caution: Please discard the inedible freshness packet enclosed.

Disclaimers: *This statement has not been evaluated by the FDA. This product is not intended to diagnose, treat, cure or prevent any disease.


Supplement Facts

Amount Per Serving

% Daily Value

Vitamin B-6 (from Pyndoxine HCI)

2 mg

100%

Folate (as Folic Acid)

400 mcg

100%

Vitamin B-12 (as Methylcobalamin)

60 mcg

1000%

Iodine (from Kelp and Irish Moss)

225 mcg

150%

Zinc (from L-Optizinc® - Zinc L-Methionine Complex)

25 mg

170%

Selenuium (from L-Selenomethionine) (Yeast-Free)

50 mcg

70%

Copper (from Copper Amino Acid Chelate)

1 mg

50%

L-Tyrosine (Free-Form)

1.0 g (1,000 mg)

†

Irish Moss (Chondius Crispus) (Thallus)

200 mg

†

Guggul (Commiphora Mukul) (Resinous Sap)

75 mg

†

Standardized Extract (min. 10% Guggulsterones)

Kelp (laminaria digitate) (Whole Plant)

60 mg

†

Ashwagandha (Witharia Sommifera) (Root)

50 mg

†

Standardized Extract (min. 4.5% Withandides)

Concentrace® Trace Minerals

5 mg

†

* Percent Daily Values are based on 2,000 calorie diet.
† Daily Value not established.