Product Summary:
The use of Potassium Plus Iodine as a dietary supplement aids in the improvement of overall thyroid health, maintaining hydration, and the maintenance of the boy's pH value, i.e. its balance of acidic and basic components. In addition to thyroid health and water balance, it helps regulate cellular metabolism and energy production.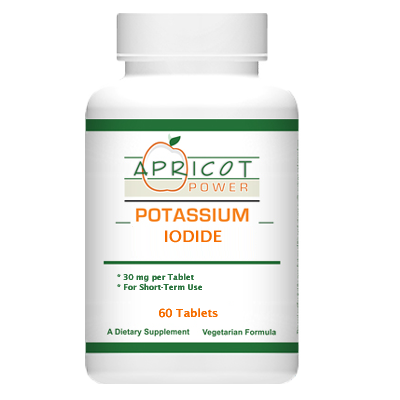 Maintain Required Chemical Balance
Deficiency of iodine is a common health problem, and is considered to be the most easily preventable chemical deficiencies in the body. The thyroid gland needs iodine to mark hormones, and with unavailability of iodine the thyroid gland would have to work harder, which may result in its enlargement. Other effects of insufficient amounts of iodine are rather serious. Low iodine levels may lead to autoimmune problems of the thyroid, and may increase the risk of other thyroid related complications. With a daily intake of dietary supplements, one can help regulate that required levels of iodine and potassium.
Flush out Radiation after an X-ray
Radiation from an X-ray machine may lead to certain health issues known as radiation injuries. Potassium Plus Iodine helps prevent and reduce radiation injuries by blocking radioactive iodine from entering the thyroid gland. X-rays can build up radioactive iodine in the thyroid glands, which could be hazardous to health. Since the thyroid gland cannot differ between the stable and radioactive iodine, when a person ingests the stable iodine in the tablet, it gets absorbed by the thyroid gland.
Potassium Plus Iodine tablets contain enough stable iodine for the thyroid gland to 'saturate', which prevents it from absorbing anymore iodine for the next 24 hours (supplement may be taken daily until risk no longer exists). Radioactive iodine molecules are then excreted out of the body via urination. Potassium Plus Iodine works best when taken three to four hours after exposure.
Iodized table salt provides iodine too, but not enough to keep the thyroid gland from absorbing more radioactive iodine. Moreover, Potassium Plus Iodine can help kill certain fungus, bacteria and other microorganisms.
Suggested Use
Potassium Plus Iodine is a dietary supplement, which is taken one tablet every day, preferably with meals.
Recap of Key Benefits
Helps avoid radiation injuries
Helps regulate iodine and potassium levels
This product is free from ingredients such as:
• Corn
• Dairy
• Gluten
• Milk
• Preservatives
• Soy
• Starch
• Sugar
• Wheat
• Yeast
Other ingredients it contains:
Cellulose
Stearic Acid (vegetable source)
Croscarmellose Sodium
Silica and Magnesium Stearate (vegetable source)
Potassium Plus Iodine provides the body important minerals to maintain the normal composition of elements in the body. This helps maintain vital bodily functions, which depend on essential minerals and vitamins. Iodine and potassium are two of those essential minerals for which we depend mostly on our diet. Modern diet, however, provides very little iodine and potassium. Potassium Plus Iodine helps maintain the daily required potassium and iodine levels in the body. This supplement provides support to vital functions of the body, ensuring that you can live a healthy and content life.
Supplement Facts

Serving Size: 1 Tablet

Servings Per Container: 180

Amount Per Serving

% Daily Value

Iodine (from Potassium Iodide)

225 mcg

150%

Sodium (from Sodium Alginate)

5 mg

<1%

Potassium (from Potassium Chloride and Iodide)

99 mg

2%

Sodium Alginate

100 mg

†

* Percent Daily Values are based on 2,000 calorie diet.
† Daily Value not established.