Product Summary:
Graviola, also known as soursop, is the fruit of Annona muricata. This is a famous plant that originates from the depths of the rainforest. It has long been associated with traditional and natural medicine in the Caribbean and South America. It has numerous medicinal characteristics which come from different parts of this plant such as the seeds, leaves, fruit, and stem. This plant contains acetogenins which have been extensively researched and documented.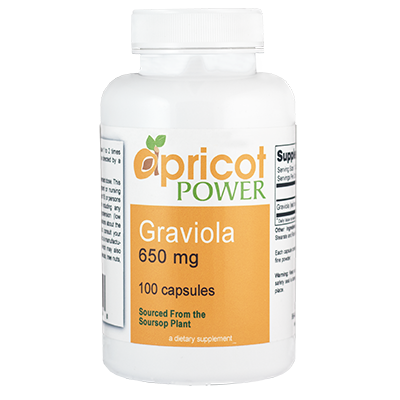 Stomach Problems Go Away
Graviola fruit is a powerful agent that helps relieve stomach pain in certain circumstances. It has various properties that enable it to fight dysentery and diarrhea. In addition, in studies, fruit from the Graviola plant has the ability to kill parasites and worms. This keeps the digestive tract clean and enables you to live a healthy life.
The Dynamism of Graviola
Whether you want to get rid of lice or need to relax, this dynamic supplement can come to the rescue. Graviola seeds are commonly used as a traditional remedy for lice. This plant also has great therapeutic properties because its roots, leaves, and bark can be used to form a calming medicinal tea which can be taken as an antispasmodic or sedative. This certainly beats taking other forms of non-natural sedative which may even be harmful to the body. Graviola is a plant, therefore it is a natural agent that provides health to the human body.
Protect Cells in the Body
Graviola has the amazing ability to protect all the cells in the human body. The acetogenins present in the plant shield cells from various harmful elements that can cause harm to and adversely affect the body. Over time, cells are attacked by a wide variety of elements. Some of this damage may be due to pollution and other external elements whereas more damage may be caused by stress and other internal elements. Graviola may help decrease that wear and tear and strengthen cells to fight all sorts of negative components out there.
Say Goodbye to Depression
Many herbal experts strongly believe that the alkaloids in graviola have the ability to moderate depression and its symptoms by changing the amount of serotonin the brain uptakes. Serotonin plays an important role in regulating mood and feeling happy or sad. So, if the amount of serotonin in the brain is amplified, it can lead to being in a better mood and living a happier life.
Recap of Key Benefits
As a quick reference guide, the following are a few of Graviola's benefits:
•
Fights dysentery and diarrhea
•
Graviola tea is a relaxant
•
Protects cells in the body
Using Graviola supplement can promote good health and vitality. Best of all, this supplement can be consumed easily at an affordable price. Do not use this supplement if you have Parkinson's disease, any neurodegenerative disorders, or are taking MAO inhibiter or anti-hypertensive medications.
Serving Size: 2 Capsules

Suggested Use: As a dietary supplement, take 2 capsules 3 to 4 times daily as needed.

Free of: sugar, salt, starch, yeast, wheat, gluten, corn, soy, milk, egg or preservatives.

Other Ingredients: Gelatin (capsule), Magnesium Stearate and Silica.






Supplement Facts

Serving Size: 2 Capsules
Servings Per Container: 50

Amount Per Serving

% Daily Value

Soursop (Graviola) (Annona muricata) (Leaf)

1.0 g (1,000 mg)

*

* Percent Daily Values are based on 2,000 calorie diet.
† Daily Value not established.