Product Summary:
#1 Selling Oxygen Supplement With 129 Nutrients

CELLFOOD is a unique formula of 78 Trace Minerals and Elements, 34 Metabolic Enzymes, 17 Amino Acids, and Electrolytes all formulated together create a unique proprietary blend of nutrients.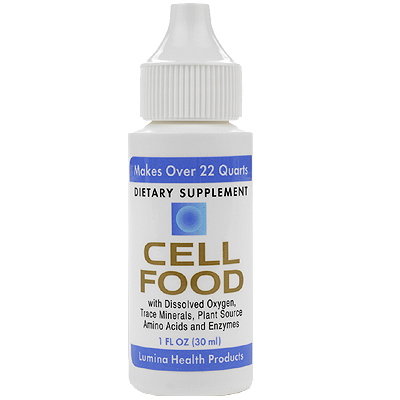 Introducing CELLFOOD
CELLFOOD's formula nourishes, cleanses and detoxifies the body's cells.
CELLFOOD provides enhanced oxygen and 78 trace minerals and elements, 34 metabolic enzymes, and 17 amino acids. It is made from the finest all natural plant-based sources, and is rapidly absorbed and utilized by every cell in the human body.

78 Trace Minerals and Elements:
Argon, Boron, Calcium, Cesium, Chromium, Copper, Helium, Iodine, Iron, Lithium, Magnesium, Oxygen, Phosphorus, Potassium, Selenium, Titanium, Zinc and 61 other minerals and elements!

34 Metabolic Enzymes:
Hydrolases, Carbohydrases, Nucleases, Hydrases, Peptidases, Copper Enzymes, Esterases, Iron Enzymes, enzymes containing CoEnzymes, Yellow Enzymes, Enzymes to reduce Cytochrome, Amidase, Mutases, Desmolases and 20 other enzymes.

17 Amino Acids:
Alanine, Arginine, Aspartic Acid, Cystine, Glutamic Acid, Glycine, Histidine, Isoleucine, Lysine, Methionine, Phenylalanine, Proline, Serine, Threonine, Tryptophan, Tyrosine/Valine.
A Source Of Oxygen
The proprietary ionic formula uses a unique water splitting technology to release oxygen and hydrogen into the body. By oxygenating and feeding the cells, it can clean, nourish and help regulate all body systems throughout the day. The unique structure provides an unsurpassed nutrient delivery system, and is absorbed quickly and efficiently by every cell.

How CELLFOOD Works
When you mix Cellfood with water or juice and ingest it, its proprietary water splitting action begins the moment you take the first sip. This cascading time release of oxygen typically peaks within 8-12 hours, and then keeps working hour after hour. And, its essential natural minerals, enzymes, amino acids and electrolytes are delivered simultaneously throughout the body on the deepest cellular level.
Benefits of CELLFOOD include:
Allows absorption of nutrients at a cellular level
Helps balance pH.
Increases energy levels without any artificial stimulation
Increases brain functioning, alertness, concentration
Supports the lungs and breathing function
Provides safe and abundant cell oxygenation
Supports the immune system
Supports free radical removal - is powerful antioxidant
Provides electrolyte activity
Sustains endurance and stamina
Helps remove lactic acid for better athletic performance
Helps faster injury recovery
Lowers surface tension of water for better cell hydration
Enhances digestion and overall metabolism
Makes a great vegetable wash
Is recommended for pets too!


It contains no alcohol, glucose, yeast, or gluten. It is also non-addictive, non-invasive, and completely non-toxic.