Product Summary:
A delicious and healthy whole food snack! This blend is packed with nuts, seeds, grains, fruits, berries, herbs, oils, spices and apricot kernels. Great source of natural B17!

Order More & Save!!
Buy 6 at $3.32 ea 16% off!
Buy 30 at $2.96 ea 25% off!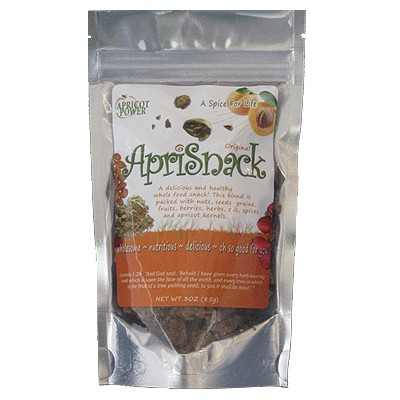 Apricot Power is excited to introduce ApriSnack™! You're going to love the unique whole food combination of pure and raw ingredients. ApriSnack™ is great for a delicious snack or as a superb meal replacement.

Bitter Just Got Better If apricot seeds by themselves are just too bitter for you then you'll love ApriSnack™. It's combination of healthy ingredients make ApriSnack™ too tasty to refuse!

Ingredients: Dates, Rolled Oats, Thompson Raisins, Sesame Seeds, Sunflower Seeds, Apricot Kernels, Almonds, Cashews, Filberts/Hazelnuts, Pecans, Walnuts, Prunes, Brown Rice Flour, Brazil Nuts, Raspberry Granules, Grape Seed, Oil, Walnut Oil, Figs, Salt, Quinoa Flour, Beet Powder, Kidney Beans, Amaranth, Barley, Flaxseed, Millet, Rye, Banana Powder, Peas, Pumpkin Seeds, Tangerine Tart Powder, Blueberry Powder, Nutritional Yeast, Peach,Tart Powder, Guava Tart Powder, Ginger Powder, Cinnamon, Aloe Leaf Dust Powder, Clove, Freeze Dried Strawberries, Coconut, Lemon Oil, Orange Oil, Stevia Leaf Powder.
Nutrition Facts

Serving Size: 3 oz
Servings Per Container: 1

Amount Per Serving

% Daily Value

Calories

340

Calories from Fat

120


Total Fat

13g

20%

Saturated Fat

1.5g

7%

Trans Fat

0g

0%

Cholesterol

0mg

0%

Sodium

95mg

4%

Potassium

250mg

7%

Carbohydrate

50g

17%

Dietary Fiber

6g

25%

Sugars

30g

Protein

8g

Vitamin K

2%

Vitamin C

4%

Calcium

8%

Iron

15%

Riboflavin

4%

Vitamin B6

6%

Copper


15%

Magnesium


10%

Selenium


6%

Pantothenic Acid


6%

Vitamin E


10%

Thiamin


8%

Niacin


6%

Folate


4%

Manganese


25%

Phosphorus


10%

Zinc


4%

Here is what some of our customers are saying about ApriSnack!

Lotte from New Jersey…
"It is the best snack I have had. It is delicious and very filling and healthy. Thanks for introducing my family to this delicious ApriSnack!"

Tena from California…
"I really like ApriSnack. It's easy to take with you and a really good snack. And best of all it's good for you. I live in a rural area and go to town once a week. If I get hungry while shopping and running errands I just snack on ApriSnack. It tastes, really good and satisfies my hunger until I get home. Please don't change it. I was afraid it would be really sweet and it's not. I like it just the way it is."

Radmila from Ontario Canada…
"This is the best snack I've ever tried. So many good stuff and it taste really good. Me and my daughter love it!!!"

Jolyne from New Jersey…
"Just had one, so good. This will give me the lift I need to do one more massage. Thanks for making this tasty treat…"

Brad from Colorado…
"I can't believe how good it was - my wife and I were fighting over the sample bag!"

Carri from Delaware…
"I was pleasantly surprised with the product! I loved the taste and I will definitely purchase in the future :)"

Tell us what you think of ApriSnack, post your comments here!