Product Summary:
This proprietary blend of herbs and amino acids together make Liver Detox the perfect supplement to detoxify and regenerate your liver. Herbs like Milk Thistle, Dandelion Root, and Tumeric contained in this formula have a long track record for repairing and protecting the liver from damage.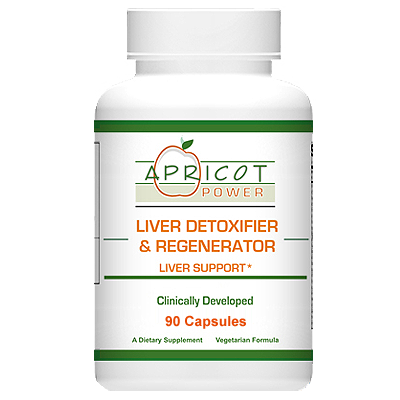 This Liver Detox Formula represents the state-of-the-art in Liver Detoxification. Each ingredient has been proven in clinical studies to play a role in liver detoxification, regeneration and maintenance. A close look at the major active ingredients will show why this product is so effective.
Amino Acids and Botanical Extracts provide the healing properties, as follows:
* Milk Thistle Extract: Milk Thistle, also known as Silymarin, has been used medicinally for over 2,000 years. Milk Thistle detoxifies the liver, as well as protect it from toxins. It also promotes regeneration and repair of liver cells, and actually can reverse liver damage. Anti-Inflammatory properties have also been observed in clinical studies.
* Dandelion Root: Dandelion Root has many healing properties, among them is its diuretic effect. What is unique about this root is its high amounts of vitamins, potassium, calcium and other trace minerals. As toxins are flushed from the body, the potassium restores balance to the kidneys. Its anti-inflammatory properties are most useful in liver detox, as well are its abilities to absorb and cause the elimination of liver toxins.
* Select Amino Acids:
L-Glutathione: This amino acid is the most abundant anti-oxidant in the body. It protects the body and all of its organs from oxidative stress, more commonly termed as Free Radical Damage. It is actually produced in a healthy liver by amino acids such as N-Acetyl Cysteine, Glutamic Acid, Methionine and Glycene. When combined with other anti-oxidants, it has an enhanced effect. Glutathione has the ability to attach itself to chemical toxins and drugs in the liver, and restructure them molecularly to enable elimination.
L-Glutathione has been used in the treatment of such liver diseases as cirrhosis and hepatitis. Toxins that can be eliminated with the help of this miraculous amino-acid are: hydrogen sulfide, pesticides, and carbon monoxide. Heavy metals such as: Mercury, Cadmium, and Chromium will also be flushed out.
N-Aceyl Cysteine: A direct precursor of Glutathione, this amino acid enables the liver to produce a natural form of glutathione that is the most absorbable. Also, it has its own anti-inflammatory properties, while additionally being able to clear mucous from the upper respiratory tract.
Methionine: Methionine is an amino-acid that is a sulphur-bearing lipotropic, which means that it helps eliminate fat from the liver, which is an essential part of proper liver function. It also modulates production of Glutathione in the liver.
* Turmeric Root: Curcumin is the active constituent found in Turmeric, and is a very potent anti-inflammatory and liver detoxification agent. Inflammation in the liver is what causes the cellular damage. This natural substance also stimulates bile production in the liver, and helps digest fats. It is reported to shrink engorged hepatic ducts, which is useful in the management of liver disorders.
This complex liver formula has been shown to bring an unhealthy liver back to a healthy state. Skin conditions have cleared, and a return of energy and clarity have been observed in individuals using this product.
Supplement Info

Serving Size: 3 Capsules
Servings Per Container: 30

Amount Per Serving

% Daily Value

Calories

10

Total Carbohydrate

1 g

<1%

Dietary Fiber

0.7 g

3%

Vitamin C (from Ascorbyl Palmitate)

12 mg

20%

Milk Thistle (Standardized Extract) (Seeds) (Silybum marianum)

(min. 80% Silymarin)

300 mg

†

Proprietary herbal-Nutrient Blend

170 mg

†

___Artichoke (Cynara scolymus) (Leaf)

___Beet (Beta vulgaris) (Leaf)

___Black Radish (Raphanus sativus)

___Bladderwrack (Fucus versiculosus) (Whole Plant)

___Raspberry (Rubus idaeus) (Leaf)

___Phosphatidyl Choline (from soy)

___Pancreatic (Pancreatic Enzymes)

___Blue Flag (Iris versicolor) (Root)

___Cleavers (Galium aparine) (Aerial Parts)

L-Glutathione (Free-Form) (Reduced)

100 mg

†

N-Acetyl Cysteine (NAC)

100 mg

†

Bupleurum (4:1 Conc. Extract) (Root) (Bupleurum chinense)

100 mg

†

Grape Seed (Standardized Extract) (Vitis vinefera)

(min. 90% Polyphenols)

100 mg

†

Dandelion (4:1 Conc. Extract) (Root) (Taraxacum officinale)

100 mg

†

L-Carnitine Base

50 mg

†

Scute (4:1 Conc. Extract) (Root) (Sculellariae baicalensis)

50 mg

†

Pueraria (4:1 Conc. Extract) (Flower) (Pueraria thunbergiana)

50 mg

†

Schisandra (Fruit) (Schisandra chinensis)

100 mg

†

Barberry (Root Bark) (Berberis vulgaris

30 mg

†

Turmeric (Root) (Curcuma longa)

30 mg

†

L-Methionine

20 mg

†

Greater Celandine (4:1 Conc. Extract) (Whole Plant)

(Chelidonium majus)

10 mg

†

* Percent Daily Values are based on 2,000 calorie diet.
† Daily Value not established.