Product Summary:
Valerian Root Extract is a pure, all-natural product taken from the root of the valerian plant, it is non-addictive and has been shown to reduce stress and anxiety, promoting better sleep and offering relief from other health complications.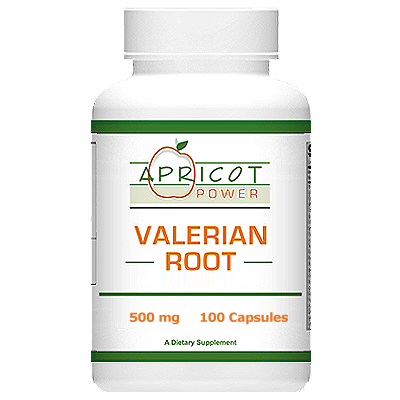 Valerian root extract, taken from the all-natural valerian herb, is water-soluble and the most effective form of valerian. This non-addicting extract originates from Europe and North America. It's most common use has been as a sleep aid but is now viewed as a valuable support in reducing stress and playing a role in cardiovascular health.

Valerian root extract is credited with:
• Strengthening the heart
• Helping relieve stress and anxiety
• Contributing to a restful sleep
• Lowering high blood pressure
• Stabilizing heart palpitations

Stress and Your Heart
Valerian root extract may also decrease sensitivity in stressful situations, helping to reduce anxiety. Stress and the subsequent release of stress hormones can have a damaging effect on your heart and cardiovascular system. Valerian root extract has been shown to decrease the production of stress hormones, particularly the primary stress hormone, cortisol.

Stress hormones, including cortisol and adrenaline:
• Constrict blood vessels
• Make the heart beat faster
• Make heart and blood vessels more reactive
• Increase high blood pressure
• Alter the way in which the blood clots

Valerian Root Extract's Nutritional Contributions
Nutrition is a key factor in heart health. Valerian root extract provides many nutrients which can be beneficial to the heart as well as overall health.

Minerals:
Calcium Iron Magnesium Manganese
Phosphorus Potassium Selenium Zinc
Vitamins:

B vitamins; thiamine, riboflavin, niacin, choline
Vitamin C
Essential fatty acids:
• Decrease inflammation, contributing to a healthy cardiovascular system

Sleep, Stress and the Heart
Valerian root extract has a sedative-like effect on the brain and nervous system. This effect can help overcome problems with sleeplessness and any stress resulting from lack of sleep.

Valerian root extract has also been known to help with:
• Irritable Bowel Syndrome
• Menstrual cramps
• Aches and pains
• Muscle spasms
• Ulcers
• Cold symptoms

Finding relief from any health issue will help relieve stress, promote a more restful night's sleep and encourage cardiovascular health.

Suggested Use: As an herbal dietary supplement, take 2 capsules prior to bedtime.

Free of: sugar, salt, starch, yeast, wheat, gluten, corn, soy, milk, egg, shellfish, preservatives.

Other Ingredients: Gelatin (capsule)

*Caution: Because of its relaxing effects, avoid driving or operation of heavy machinery following any significant consumption of this herb.
Supplement Facts

Servings Per Container: 50
Serving Size: 2 capsules

Amount Per Serving

% Daily Value

Total Carbohydrates

0.7g

<1%*

Valerian (Valeriana officinalis) (Root)

1 g (1,000 mg)

†

* Percent Daily Values are based on 2,000 calorie diet.
† Daily Value not established.