Product Summary:
Olive leaf extract is a safe, non-toxic natural herbal supplement that has immune-boosting, cardio-protective benefits, and provides antioxidant protection.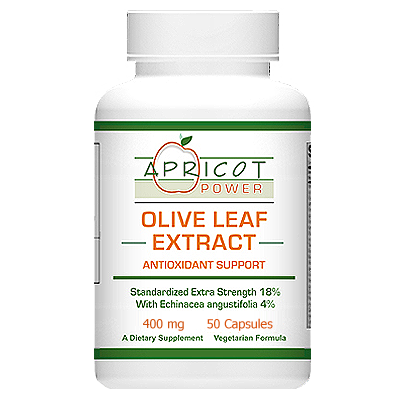 Olive leaf extract, as its name implies, is derived from the leaves of the olive tree. Ancient Egyptians used it to embalm their pharaohs. Then different cultures later on started to use it as a remedy for fever. It also became a folk remedy for colds, flu, and infections.
Antioxidant Properties
Olive leaf's phytochemicals include antioxidants such as polyphenols and bioflavonoids that may help protect cells from oxidation and inflammation such as hydroxytyrosol and oleocanthal. It has an ORAC (oxygen radical absorption capacity) rate of 10465 mmol TE/g, giving it a higher ranking than vitamin C or green tea in terms of antioxidant activity. Oleuropein, olive leaf's superstar phytochemical, has been suggested in studies to support heart health.
Immune Support
The bitter compound oleuropein is said to be responsible for olive leaf extract's ability to fight bacteria and diseases caused by bacterial infections. Elenolic acid, a unique compound found in olive leaves, may help arrest viral infection and replication. Its antifungal properties are attributed also to oleuropein. As a non-toxic botanical product olive leaf extract will not disrupt normal immune function or cause any gastrointestinal damage or gut flora imbalance.

Olive leaf extract is believed to be a powerful immune stimulant that may help increase phagocyte activity. Phagocytes are a group of immune cells that devour bacteria and other harmful pathogens. It has been seen in animal studies to help reduce high blood pressure, fight inflammation, and induce urination.
Olive Leaf Extract with Echinacea
Compared to other stand-alone olive leaf extract supplements Apricot Power's Olive Leaf Extract formula includes the Chinese herb Echinacea, whose outstanding benefits combine with those of olive leaf extract to create a potent synergy that can help revive a flagging immune system in a short period of time, especially if taken in conjunction with a healthy lifestyle program. Echinacea, a North American herb that is also widely used in Europe, is a time-tested natural remedy for colds, flu, and various infections. It contains the antioxidant vitamins A, C, and E plus essential minerals such as potassium, iodine, iron, and copper, all of which perfectly complement olive leaf extract's healing and nourishing properties.

Suggested Use: As an herbal dietary supplement, take 1 Vcaps® 1 to 2 times daily.

Free of: sugar, salt, yeast, wheat, gluten, corn, soy, milk, egg, synthetics, preservatives.

Other Ingredients: Cellulose (capsule), Magnesium Stearate (vegetable source), and Silica.
Supplement Facts

Servings Per Container: 50

Serving Size: 1 VCap

Amount Per Serving

% Daily Value

Olive leaf 3X

400 mg

*

Echinacea angustifolia (root)

100 mg

*

* Percent Daily Values are based on 2,000 calorie diet.
† Daily Value not established.