Product Summary:
Reishi and shiitake mushrooms have been traditionally used in oriental medicine to boost immune response against bacteria, viruses,and fungus. Both are also believed to restore and promote liver health. Research also suggests that ganoderic acids in reishi have hypotensive properties.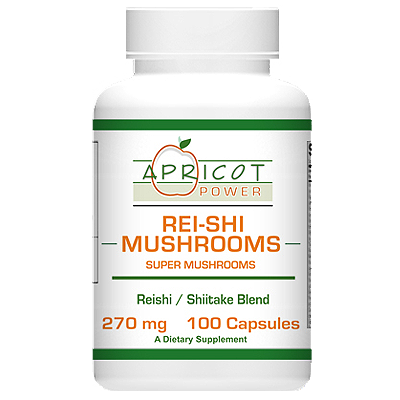 History of Reishi and Shiitake
Reishi (Ganoderma lucidum) and shiitake (Lentinula edodes) mushrooms are both highly prized medicinal foods in traditional Chinese medicine. Both may help suppress abnormal tissue growth, deter different types of malignancies from progressing into advanced stages, promote cardiovascular health, and lower blood pressure. They are also liver tonics with antiviral and immune-boosting properties.
Reishi has been a popular longevity food in Asia for more than 2,000 years now. It was believed in ancient China that reishi could bring eternal youth to those who consumed it. Current research suggests that reishi mushrooms may help lower blood cholesterol, reduce inflammation, and reverse damage caused by radiation exposure and chemotherapy treatment. Reishi mushrooms also have ganoderic acids, compounds that may help lower blood pressure and inhibit the release of histamines, pro-inflammatory chemicals released by the body during allergy attacks.
Medicinal Compounds
Shiitake contains the polysaccharide (complex sugar molecule) lentinan, which has been observed to boost T-cell function. T-cells are white blood cells produced from the thymus gland that can identify and destroy mutated cells and harmful microorganisms such as bacteria, viruses, and fungi.

Shiitake's and reishi's antiviral properties are attributed to their beta glucans polysaccharides, which assist the body in producing a type of natural protein called interferon which could help stop the replication of viruses in its tracks. These polysaccharides may also increase macrophage activity. Macrophages are large phagocytes that eat dangerous cells and pathogens such as viruses for food. Beta glucans may also help ward off atherosclerosis, or the hardening of fatty deposits on the inner walls of the arteries. Medicinal mushrooms such as shiitake are also high in glyconutrients, a type of sugar that improve immune cell communication. People with poor immunity are deficient with this essential immune system sugar.
Both shiitake and reishi may help strengthen and protect the liver. Triterpenes, antioxidant compounds found in reishi, stimulate the liver to dump stored toxins, while shiitake's polysaccharides and enzymes may help boost hepatic function. Both are traditionally used to help prevent hepatitis.
Why Supplement with Rei-Shi?
Apricot Power Rei-Shi Mushrooms supplement is processed in an antiseptic, yeast-free, and highly controlled environment to ensure the purity, quality, and potency of our product. Our reishi and shiitake mushrooms are grown on organic rice without chemicals. Our brand also contains extract powders instead of just whole powders to isolate the most potent compounds, making them available in higher concentrations, and therefore delivering fuller benefits than their whole food form.
Discover the power of medicinal mushrooms by taking a reishi and shiitake mushroom supplement everyday!

Suggested Use: As a dietary supplement, take 2 capsules 2 times daily, preferably with meals.

Free of: sugar, yeast, wheat, corn, soy, milk

Other Ingredients: Rice Flour, Magnesium Stearate, Silica, Gelatin (capsule)

Warnings: Individuals taking blood thinners should consult a health practitioner before using Shiitake because it has anti-clotting properties.


Supplement Facts

Serving Per Container: 50

Serving Size: 2 capsules

Amount PerServing

% Daily Value

Reishi Mushroom Extract Powder (10:1)(Ganoderma lucidum)

90 mg

*

Shiitake Mushroom Powder (Lentinus edodes)

300 mg

*

Shiitake Mushroom Extract Powder (4:1) (Lentinus edodes)

150 mg

*

* Percent Daily Values are based on 2,000 calorie diet.
† Daily Value not established.