Product Summary:
Reishi and shiitake mushrooms have been traditionally used to help support immune response. Both are also believed to help restore and promote liver health. Ganoderic acids in reishi may also help promote cardiovascular health and healthy blood pressure levels.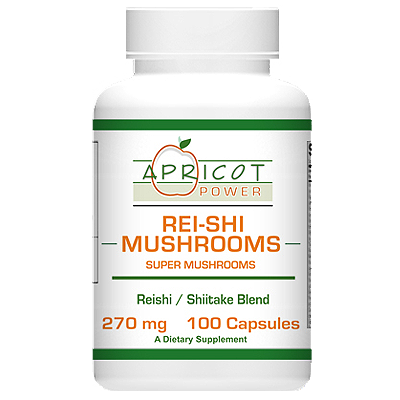 History of Reishi and Shiitake
Reishi (Ganoderma lucidum) and shiitake (Lentinula edodes) mushrooms are both highly prized foods in traditional Chinese culture. Both may help promote cardiovascular health, immune response, healthy blood pressure levels, liver health, and a healthy microbial balance.
Reishi has been a popular food in Asia for more than 2,000 years now because they contain ganoderic acids, compounds which may help promote healthy blood cholesterol levels, a positive inflammatory response, and cellular health.
Medicinal Compounds
Shiitake contains the polysaccharide (complex sugar molecule) lentinan, which may boost immune response by supporting our body's T-cells. T-cells are white blood cells produced from the thymus gland that can identify and help manage biotic imbalances.

Shiitake and reishi contain beta glucans polysaccharides, which assist the body in producing a type of natural protein called interferon which is part of the body's natural method for maintaining an appropriate biotic balance. These polysaccharides may also support macrophage activity. Macrophages are large phagocytes that envelope dangerous cells and pathogens. Beta glucans may also help promote vascular health. Mushrooms such as shiitake are also high in glyconutrients, a type of sugar that may support immune cell communication.
Both shiitake and reishi may help support liver health. Triterpenes, antioxidant compounds found in reishi, stimulate the natural detoxificatin of the liver, while shiitake's polysaccharides and enzymes may help boost hepatic function.
Why Supplement with Rei-Shi?
Apricot Power Rei-Shi Mushrooms supplement is processed in an antiseptic, yeast-free, and highly controlled environment to ensure the purity, quality, and potency of our product. Our reishi and shiitake mushrooms are grown on organic rice without chemicals. Our brand also contains extract powders instead of just whole powders to isolate the most potent compounds, making them available in higher concentrations, and therefore delivering fuller benefits than their whole food form.
Discover the power of medicinal mushrooms by taking a reishi and shiitake mushroom supplement everyday!

Suggested Use: As a dietary supplement, take 2 capsules 2 times daily, preferably with meals.

Free of: sugar, yeast, wheat, corn, soy, milk

Other Ingredients: Rice Flour, Magnesium Stearate, Silica, Gelatin (capsule)

Warnings: Individuals taking blood thinners should consult a health practitioner before using Shiitake because it has anti-clotting properties.
Supplement Facts
Serving Per Container: 50

Serving Size: 2 capsules

Amount PerServing

% Daily Value

Reishi Mushroom Extract Powder (10:1)(Ganoderma lucidum)

90 mg

*

Shiitake Mushroom Powder (Lentinus edodes)

300 mg

*

Shiitake Mushroom Extract Powder (4:1) (Lentinus edodes)

150 mg

*

* Percent Daily Values are based on 2,000 calorie diet.
† Daily Value not established.