Product Summary:
Joint Support with Glucosamine has the ability to enhance joint function and repair cartilage. This nutritive supplement encourages the release of vital nutrients in the body that promote the production of synovial fluid,which keeps joints healthy and lubricates cartilage. Therefore, there is less wear and tear throughout the joint structures in the body as it ages.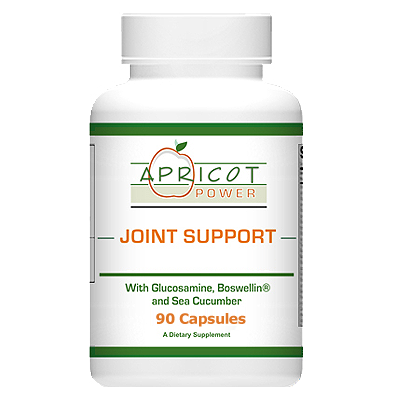 Rejuvenate the Body
The lack of ample glucosamine in the body leads to the deterioration of commonly-used joints such as the hands, hips and knees. Especially as people grow older, their bodies do not produce as much glucosamine required for healthy functioning of joints. This is where taking glucosamine supplements can help rejuvenate the body and ease pain. The great aspect of this super supplement is that its consumption is not only limited to older folks, but young adults can also consume it to promote vitality.
Repair Cartilage
Cartilage is the cushion between weight-bearing joints and glucosamine is a natural compound found in cartilage. As time passes, this cartilage wears out, which means that the joints don't have any cushion in between to move without damaging bones. These exposed bones eventually start causing pain when they rub together. Countless individuals resort to the use of glucosamine to enhance joint mobility and avoid joint stiffness.
Triple the Benefits for Better Joint Mobility
Joint Support with Glucosamine is way ahead of its competition because it provides increased potency for healthy joint function and ultimate convenience in the form of capsules, all at an affordable price. More potency means that the body receives an ample amount of Glucosamine to repair cartilage and improve joint movement. The easy-to-consume capsules break down quickly in the body and waste no time delivering this dynamic supplement to where it is needed most. Best of all, the excellent price of the product ensures that individuals, young or old, can use it to improve their joints.
Suggested Use
As a dietary supplement, take 2 capsules daily with food.
Recap of Key Benefits
• Enhances joint function
• Repairs damaged cartilage
• Lubricates joint structures
Other Ingredients: Gelatin (capsule) and Magnesium Stearate (vegetable source). Contains shellfish (crab, shrimp, lobster, crayfish) and fish (sea cucumber).
This product is free from the following ingredients: Sugar, Salt, Yeast, Milk, Starch, Soy, Egg, Gluten, Wheat, Preservatives.
Over all, Joint Support with Glucosamine is the long-awaited answer to the anguish and agony of countless individuals who face joint pain. This easy solution provides much-needed relief and encourages healthy joint movement for a lifetime.
Each bottle comes with 90 capsules and each capsule is loaded with Glucosamine, so joint pain can become a thing of the past. Glucosamine is safe to consume and has no harmful side effects.
Please be sure to discard the inedible freshness packet enclosed in the packaging. Individuals who are allergic to shellfish should avoid this product altogether. Glucosamine is an amino acid sugar derived from the chitin of shellfish.


Store in a cool, dry place.
Supplement Facts

Serving Size: 2 Capsules
Servings Per Container: 45

Amount Per Serving

% Daily Value

Pantothenic Acid (from D-Calcium Pantothenate)

67 mg

670%

Niacin (as Niacinamide)

67 mg

335%

Vitamin B-6 (from Pyridoxine HCl)

33 mg

1650%

Vitamin C (Ascorbic Acid)

67 mg

112%

Magnesium (from Magnesium Oxide)

133 mg

33%

Zinc (from Zinc Picolinate)

10 mg

67%

Manganese (from Amino Acid Chelate)

5 mg

250%

Copper (from Amino Acid Chelate)

2 mg

100%

Glucosamine HCl

667 mg

†

Boswellin® (Standardized herbal extract of Boswellia serrata)

200 mg

†

Sea Cucumber

100 mg

†

Bromelain (2000 GDU activity from pineapple)

100 mg

†

PABA (Para-aminobenzoic acid)

67 mg

†

Alfalfa Juice Concentrate

67 mg

†

* Percent Daily Values are based on 2,000 calorie diet.
† Daily Value not established.