Product Summary:
The World's Number One Superfood! A type of blue-green algae that has been enjoying immense popularity as a superfood due to its high protein and chlorophyll content. It is a multi-functional food that can be enjoyed by all ages due to its impressive benefits.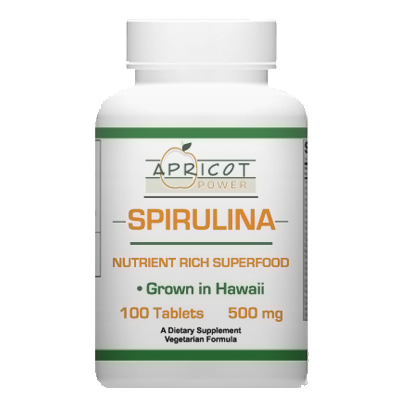 The World's Number One Superfood!
Spirulina is a blue-green algae that thrives in highly alkaline waters. As a superfood, spirulina has become the standard on which all the other superfoods are measured. You won't know what a superfood really is until you've tried it. Doctors, scientists, nutritionists, and prestigious institutions agree that spirulina is nature's perfect food.
Outstanding Nutrition for Your Body
Spirulina is not the jack but the king of all trades in doing well for your body. That's because it doesn't deliver results that are just merely satisfactory. It is an incredible superfood comprised of essential nutrients. Such as: carotenoids, vitamins, minerals, enzymes, omega-3 and omega-6 essential fatty acids.

It is detoxifying and helpful in establishing and maintaining: mental, cardiovascular, skin, and nervous system health. It is also an anti-inflammatory, energy-boosting, highly nourishing, and immune-enhancing functional food.

Spirulina has been known to help reduce: stress, obesity, hypertension, hypercholesterolemia, liver problems, infections, blood sugar imbalances such as hyper- and hypoglycemia, depression, and free-radical damage.
Proudly Packed with Protein
Spirulina contains the highest percentage of complete protein on the face of the planet. And yes, this includes all kinds of animal foods as well.

3x more protein than the leanest steak without the saturated fat, cholesterol, and cooked meat carcinogenic toxins!
100 grams of lean steak will give you 21.2 grams of protein, but 100 grams of spirulina will give you 60 to 80 grams of complete and bioavailable protein! That's because spirulina contains 60 to 80 percent protein.

Sporty Spirulina
Athletes and body builders agree that spirulina is the best plant-based performance-boosting superfood around. Due to its high-chlorophyll content spirulina not only alkalizes your blood but oxygenates your muscles as well, helping you build muscle more quickly by driving down lactic acid levels, which are naturally high after intense work-outs. Spirulina as an alkaline superfood also relieves soreness and aids in muscle recovery and repair, enabling you to train longer and more regularly.

A Convenient Superfood
Spirulina is technically a food, not a supplement. However, taking spirulina tablets can be very practical and convenient. It enables you to consume spirulina wherever you are. One serving of our Spirulina tablets will give you 3 grams of spirulina. There is no known toxicity if taken in higher doses (athletes are known to consume 20-30 grams of spirulina everyday with amazing results!). We only use spirulina that has been meticulously cultivated in a hygienic environment, so our tablets are guaranteed to be safe and toxin-free.
Give your body and yourself a lot of love by making it a habit to consume spirulina everyday!

Suggested Use: As a dietary supplement, take 6 tablets daily.

Free of: sugar, starch, yeast, wheat, corn, soy, egg, milk, fish, shellfish, tree nut ingredients, and preservatives.
Supplement Facts

Servings Per Container: 16

Serving Size:6 tablets daily

Amount Per Serving

% Daily Value

Calories

10

Sodium

40 mg

2%

Total Carbohydrate

<1 g

<1%

Protein

2.0 g

4%

Vitamin A (100% as Beta-Carotene)

6900 IU

140%

Thiamine (Vitamin B-1)

106 mcg

7%

Riboflavin (Vitamin B-2)

120 mcg

7%

Vitamin B-12

6 mcg

60%

Calcium

21 mg

2%

Iron

3 MG

10%

Organic Spirulina

3.0 g (3,000 mg)

†

Gamma Linolenic Acid (GLA)

30 mg

†

Chlorophyll

30 mg

†

* Percent Daily Values are based on 2,000 calorie diet.
† Daily Value not established.