Product Summary:
Inositol hexaphosphate, also known as IP-6 or phytic acid is a naturally polyphosphorylated carbohydrate primarily found in brown rice, beans, wheat bran, cereal grains, and other foods that are high in fiber. It provides a wide range of benefits that cater to many parts of the body. It can protect cells, boost the immune system, help kidney function, produce antioxidants, promote eye health and improve cardiovascular health.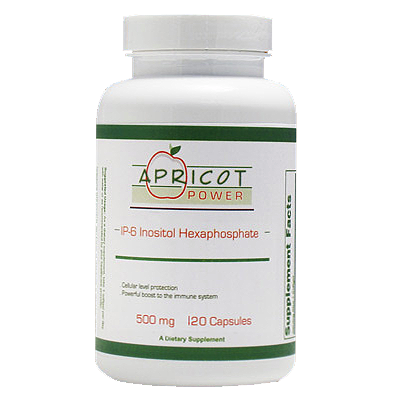 Supports Colon, Prostate, and Breast Cells
This carb provides many health benefits and is believed to protect colon, prostate, and breast cells. This carbohydrate provides a holistic and comprehensive solution to all kinds of issues related to health. One simple supplement can avert a lot of potentially damaging conditions because it protects cells in important areas of the body.
Fights Infections
IP-6 has the ability to fight fungal and bacterial infections. Since it can work against these infections, it helps improve health and sustain it. IP-6 is found in bran portions of whole grains and can be easily consumed in supplement form to aid health and help carry out daily functions in life.
Keep Kidney Stones at Bay

For individuals who suffer from kidney stones, inositol hexaphosphate can provide great relief. It inhibits the crystallization of calcium salts in the urine, which is why it may play an important part in reducing kidney stones. This saves people from a lot of discomfort and soreness that occurs when urinating if they have kidney stones.
Revitalize your Body through Production of Antioxidants

Antioxidants play a vital role in increasing the human lifespan and improving health. Some experts have even claimed that the more antioxidants in your body, the longer you live. IP6 is included among nature's most potent antioxidants, which is why you can use this supplement to ensure there is an ample amount of antioxidants in your body.
Improve Eye Health

IP-6 has the ability to protect your eyes because it promotes eye membrane development. Eye membrane development helps counter the effect aging has on eyes. This is why using an Inositol Hexaphosphate supplement can protect the eyes from adverse consequences.
Enhance Cardiovascular Health
Cardiovascular health is essential for us to live healthy lives. This is why anything that supports cardiovascular functions can help you lead a healthful life because it prevents the onset of several harmful ailments. IP-6 can support heart health and let you live your life to the fullest.
Suggested Use

IP-6 is available in a bottle of 120 capsules and each capsule has 500mg of Inositol Hexaphosphate. It is recommended to take 2-3 capsules daily on an empty stomach.
Other Ingredients: Gelatin, Rice, flour, microcrystaline cellulose (plant fiber), may contain one or both of the following: magnesium strearate, silica
Supplement Facts

Serving Size: 1 Capsule

Amount Per Serving

% Daily Value

Calcium (From IP-6)

67.6mg

7%

Magnesium (from IP-6)

2.6 mg

1%

IP-6 500 mg

Inositol 135.2 mg

* Percent Daily Values are based on 2,000 calorie diet.
† Daily Value not established.