Product Summary:
A colloid is a mixture with properties between those of a solution and a fine suspension. Colloidal solutions contain mineral particles so small that they can be used by our living cells. In layman terms, colloidal silver is a suspension of tiny silver particles in water. However, it is not that simple. Colloidal silver not only improves immunity but also works as an anti-bacterial, anti-viral, and anti-fungal agent.
The germicidal and disinfectant properties of colloidal silver were discovered by doctors almost a century ago, while silver had been used before as a preservative to stop bacteria, algae and other microorganisms from growing in water and milk.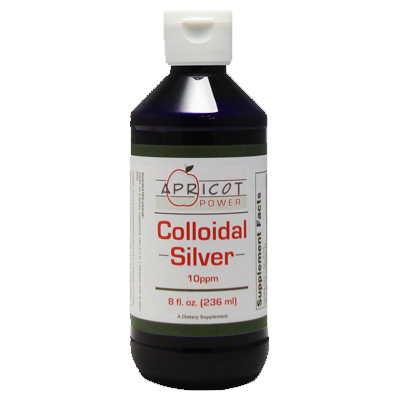 Colloidal Silver as Mouthwash
According to most healthcare providers there is not much that can be done about the common cold, except to mitigate the symptoms. However, what most people do not know is that colloidal silver's germ fighting quality can prove extremely beneficial against a cold or flu. For speedy recovery from the common cold, gargle with colloidal silver regularly.
An Essential Part Of Your Emergency Preparedness Kits
Colloidal silver is also a very useful part of emergency preparedness kits. It can replace store bought antiseptic creams and gels that are made from pharmaceutical chemicals, and that bacteria can become resistant to. Colloidal silver does not expire or degrade with time, making it the perfect preparedness antiseptic.
Potency, Purity and Storage
• The smaller the particle size, the higher the absorbability because of the increased surface area. A higher ppm measure does not mean that the product is stronger; instead, the larger particle size will cause the solution to have lower potency. The most effective and safe dosage of colloidal silver, which is also the most commonly available, is 10 ppm.
• Another important factor is the purity. It is important that colloidal silver is made from pure silver and pure water. There are no added silver salts or other compounds in this product.
• The only things that may affect the quality of colloidal silver in storage are heat and sunlight, so it is preferable that you store it in a cool, dry and dark location. As long it is not affected by heat and light, silver can be stored indefinitely and will not lose its potency.
Suggested Use
One teaspoon of colloidal silver as an immunity boosting, antiviral, antifungal and antibacterial supplement can be taken once or twice daily.
This product is free from the following ingredients:
• Sugar
• Salt
• Yeast
• Milk
• Soy
• Egg
• Gluten
• Wheat
• Corn
• Soy
• Preservatives
100% vegetarian formula!
As you can see, colloidal silver serves as a multi-purpose dietary supplement that can help boost health functions and ensure that you live a healthy life.
Caution: There is a possibility this product may interfere with the body's absorption of some drugs. Consult with your physician before use.
Supplement Facts

Serving Size: 1 tsp. (5 ml)

Servings Per Container: 48

Amount Per Serving

% Daily Value

Purified Water

50 mcg

*

* Percent Daily Values are based on 2,000 calorie diet.
† Daily Value not established.