Product Summary:
This coenzyme and powerful antioxidant, is best known for its ability to support cardiovascular health. CoQ10 enhances mental function and vitality, neutralizes free radicals, facilitates energy production and boosts the immune system.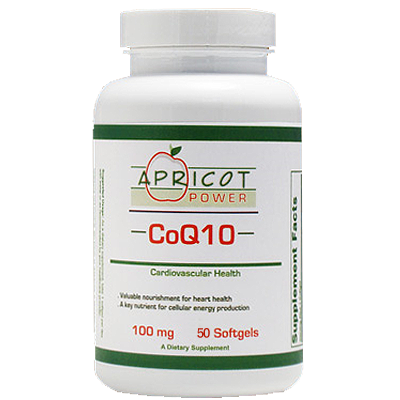 CoQ10, often thought of as a vitamin, is actually a coenzyme, a compound which must be present for an enzyme to function. This potent antioxidant is produced naturally in the body and is concentrated in most major organs, especially the heart.
CoQ10 is best known for its ability to benefit cardiovascular health but CoQ10 is also essential for other functions performed in the body. It metabolizes fats and carbohydrates in the mitochondria, the energy production center of all cells, generating cellular energy and ultimately leading to increased energy levels in the body.
Why is it a good idea to supplement with CoQ10?
As early as our 20's the body slows down its natural production of CoQ10. By age 50, 75% of us may be CoQ10 deficient. CoQ10 is something our body wants to supply us with but may not be able to. This can be dangerous and could possibly lead to:
• Symptoms associated with heart disease
• Premature aging
• Loss of energy
• Loss of vitality
Maintaining the proper levels of CoQ10 is necessary to our long-term health and:
• Helps maintain flexibility of cell membranes
• Increases tissue oxygenation
• Supports the immune system
CoQ10 Research Studies
CoQ10 was discovered a relatively short time ago (1957) at the University of Wisconsin-Madison enzyme institute. Since then many research studies have been conducted and the benefits of using CoQ10, especially in larger amounts have been found.
• Age-related macular degeneration improved or remained stable.
• Japanese doctors treat congestive heart failure (CHF) (The United States is considering use of CoQ10 in the future as an adjunct therapy with certain CHF patients).
• Positive results have been seen in the United States in regards to: ejection fraction, exercise tolerance, cardiac output and stroke volume.
• May raise levels of the neurotransmitter dopamine in those who are deficient and also have Parkinson's Disease.
CoQ10 and Heart Health
CoQ10 has been studied extensively for its cardiovascular support. It is needed for the heart to circulate blood effectively. Observations of patients with heart failure showed lower levels of CoQ10.

CoQ10 can be supplied in the diet but may be beneficial in amounts larger than can be obtained from food. It is found in:
• Meat/ fish
• Vegetable oils: soybean, olive, grapeseed
• Avocado, spinach, parsley
• Some nuts/seeds
Supplementing with CoQ10 has been shown to be safe at high doses.
*Supplementing with CoQ10 may not be for everyone. It may interact with Statin prescription drugs. Diabetics need to monitor glucose levels closely while taking CoQ10.

Suggested Use: One softgel 1 to 2 times daily, preferably with meals. For additional support, take up to three softgels daily.

Supplement Facts





Serving Size: 1 Softgel





Amount Per Serving





% Daily Value





CoQ10





100mg





*






† Daily Value not established.