Product Summary:
Our proprietary blend of eight organic mushrooms helps support your body's own immune system. This product is often compared to AHCC and shares many of the same characteristics that make AHCC so great. Great for when you have a cold or flu or anyone with a weakened immune system.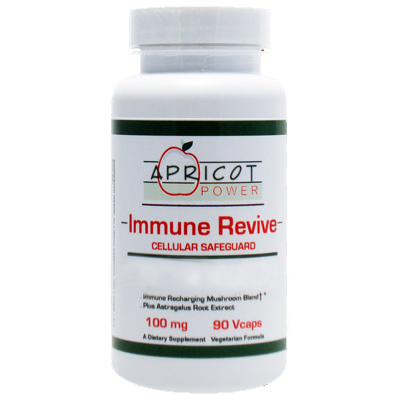 Our Immune Revive is a potent immune system support formulation. It contains a proprietary blend of 8 organic mushrooms as well as Astragalus Root Extract. The highest naturally occurring form of Beta-Glucan is found in these eight mushrooms. Beta-Glucan is known for its remarkable ability to support immunity. Some studies even suggest, the 1,3 form of Beta Glucan found in mushrooms may possess anti–tumor properties.
Immune Revive benefits a strong, responsive immune system in the foundation of good health.

Astragalus Root Extract
Astragalus Root has been used by Chinese doctors to stimulate the immune system, to improve cardiovascular health, and to fight the common cold and flu. This plant is native to Northern China and Mongolia. It inhabits mostly pine forests and sandy soils.
Hericium Erinaceus (Lion's Mane Mushroom)
This species of mushroom grows in North America, China, Japan, and Europe. Traditional Chinese Medicine has been used for stomach problems. Modern research suggests that these mushrooms have antibacterial and anti-inflammatory properties, and are beneficial in support of the immune system.

Trametes Versicolor (Or Turkey Tail Mushroom)
Turkey Tail mushrooms are medically significant for their large amounts of Polysaccharide K. PSK is a high molecular weight carbohydrate found in fruitbodies, but are most concentrated in these mushrooms.

Grifola frondosa (Or Maitake Mushroom)
Maitake Mushrooms grown in the mountainous areas of Japan. They are used in cooking and for medicinal purposes. Medicinally they are best known for their immune boosting abilities.

Other Mushrooms that make up the proprietary blend in Immune Revive are; Shiitake, Reishi, Cordyceps, and Phellinus Linteus. All of these mushrooms contain Polysaccharides and are considered to be beneficial to immune system support.

Suggested Use: As an herbal dietary supplement, take 1 Vcap® 1-2 times daily.

Free of: sugar, salt, wheat, gluten, corn, soy, milk, egg or preservatives.

Other Ingredients: Cellulose (capsule), Cellulose, Silica and Magnesium Stearate (vegetable source). Vegetarian Formula.

Caution: Please discard the inedible freshness packet enclosed.

Disclaimers: *This statement has not been evaluated by the FDA. This product is not intended to diagnose, treat, cure or prevent any disease.
Supplement Facts


Serving Size: 1 Vcap®
Servings Per Container: 90

Amount Per Serving

% Daily Value

Organic Mushroom Blend (Optimal Mycelial BioMass)

200 mg

*

[Proprietary Blend of Trametes versicolor (Turkey Talis),

Agaricus blazei (Sun Mushroom), Grifola frondosa (maitake),

Cordyceps sinensis (Cordycaps), Phellinus linteus, Hericium

Erinaceus (Lion's Mane), Ganodema lucidum (Reishi) and Lentinula adodes (Shitake)]

Astragalus Root Extract (Astragalus membranaceous)

200 mg

*

(min. 70% Polysaccharides)

* Percent Daily Values are based on 2,000 calorie diet.
† Daily Value not established.