Product Summary:
Our Power Pack Complete is design to bring to together the best products to revitalize your body. These items all work together with B17 to help your body thrive.
Buy Together & Save!!
· Apricot Kernels - 2lbs
· B17 - 500mg Tablets
· Super B-15 TMG
· Mega Enzyme Forte

· AHCC
· Alpha-Threonic C
· Barley Green Juice
· Zinc
· Coral Calcium
· Vitamin D

· Multi Vitamin Plus
· Esiak 4:1 Extract
· IP-6 (Inositol Hexaphosphate)
· Bio-Absorb Curcumin
· Graviola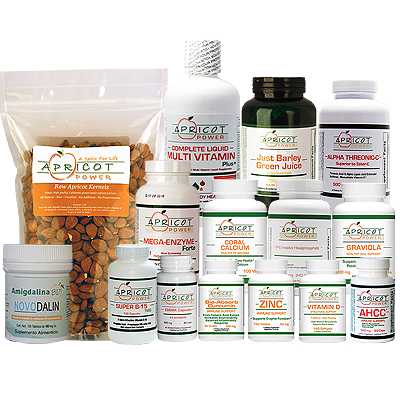 Power Pack Complete comes with the following items...
2 lb Bag of Apricot Kernels
Our bitter and raw California grown apricot kernels have not been processed in any way that will affect their nutritional value, this ensures that the apricot kernels retain their high levels of B17.
500 mg B17
B17 comes from extracting natural B17 from apricot kernels.
Super B-15 TMG
According to Dr. Ernst Krebs, B15 (Pangamic Acid) increases the oxygen efficiency of the entire body and aids in the detoxification of waste products. B15 can be found in the apricot kernels.
Mega Enzyme Forte
A potent blend of both plant-based and animal-derived pancreatic enzymes to assist the body in detoxification and other metabolic processes. Specifically designed for to work with our B17!
AHCC
This product has been used to help support the immune system of patients undergoing chemotherapy and radiation in over 700 clinics and hospitals in Japan. AHCC supports normal immune function and may improve the number and functions of immune system cells.
Alpha-Threonic C
Alpha-Threonic C contains optimum amounts of readily available and highly usable non-acidic vitamin C. Our proprietary blend combines powerful antioxidants derived from food sources to further enhance the immune-strengthening benefits of vitamin C.
Barley Green Juice Powder
Barley grass juice powder is a superfood and whole food that contains unbelievably high amounts of synergistic nutrients your body needs to remain strong, healthy, and youthful looking. Apricot Power's Just Barley Green Juice Powder is raw, vegan, and gluten-free.
Zinc
Zinc is an essential mineral. It helps support healthy immune system function and is an important component of the body's antioxidant systems.
Coral Calcium
Apricot Power Coral Calcium contains an alkaline form of Calcium that can help to support a healthy pH.
Vitamin D
Needed by every human to build strong bones and healthy teeth, Vitamin D provides valuable immune support, regulates thyroid function, and promotes joint and cardiovascular health. Unlike other Vitamin D supplements, our soft gels forumla provide pure vitamin D3 oil for easier and quicker absorption.
Multi Vitamin Plus
Not only does it contain the original vitamins and minerals you count on, but we've added more essential fatty acids, green veggies, fruits and anti-oxidants in the new formula.
Esiak Caspules
These capsules are formulated in specific proportions according to a well-known traditional Ojibwa Indian formula. We increased the concentration of the herbs to create a concentrate equivalent to four times the comparable tea strength.
IP-6 (Inositol Hexaphosphate)
Inositol hexaphosphate, also known as IP-6 or phytic acid is a naturally polyphosphorylated carbohydrate primarily found in brown rice, beans, wheat bran, cereal grains, and other foods that are high in fiber. It provides a wide range of benefits that cater to many parts of the body. It can protect cells, boost the immune system, help kidney function, produce antioxidants, promote eye health and improve cardiovascular health.
Bio-Absorb Curcumin
Curcumin is a super extract that works in more than one way to enhance human health. It is gaining popularity because it encourages a positive inflammatory response, assists healthy joint mobility, and kick-starts anti-oxidant activity within the body. Bio-Absorb Curcumin works more effectively than regular curcumin to deliver all these benefits because of increased absorption and bioavailability in the body.
Graviola
Graviola, also known as soursop, is the fruit of Annona muricata. This is a famous plant that originates from the depths of the rainforest. It has long been associated with traditional and natural medicine in the Caribbean and South America. It has a numerous medicinal characteristics which come from different parts of this plant such as the seeds, leaves, fruit, and stem. This plant contains acetogenins which have been extensively researched and documented. These chemicals have insecticidal, anti-parasitic, antimicrobial, and anti-tumorous properties.
Do you prefer capsules over tablets? No problem, just tell us in the customer comments during check out.