Product Summary:
Vitamin A and E Emulsion is a super concentrated source of vitamins A and E. These two antioxidant vitamins enable the body to perform various functions that are vital to our health. Our Vitamin A+E Emulsion is also an important part of the B17 essentials regimen.
Works Great With B17!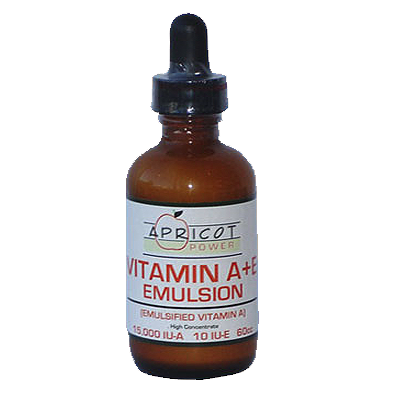 The fact that vitamin A comes before all the other vitamins, gives us an idea as to its huge importance in our health. Vitamin A is needed for cell growth, clear eyesight, healthy skin, strong hair, growth of teeth and bones, gastrointestinal health, and the utilization of protein in the body.
Vitamin A in 2 Ways
Vitamin A occurs in 2 forms. The first is retinol, which is found in animal foods. Plant foods contain a group of phytochemicals called carotenoids such as beta-carotene and lycopene. Carotenoids are converted in the body by the liver into vitamin A.
Good Sources of Vitamin A include:
-Cod liver oil (retinol)
-Butter, milk, cheese (retinol)
-Egg yolks (retinol)
-Carrots (beta- carotene)
-Sweet potatoes (beta- carotene)
-Apricots (beta- carotene)
-Tomatoes (lycopene)
Those who may not be getting enough vitamin A in their diet, could experience; flaky skin, dry hair, acne, pre-mature aging (wrinkles), mouth ulcers, fatigue, and night blindness.
"E" is for Excellent!

Vitamin E, also known as tocopherol, is vital for heart health, glowing skin and silky hair, and protection against free radical damage. Although it is a fat-soluble vitamin, it is not stored in our bodies long enough for future use, so regular intake of this vitamin is essential.
Many will get vitamin E naturally in the foods they eat on a daily basis. However, not all of us are consuming enough of these foods to get enough of our daily dose of the vitamin. Vitamin E can commonly be found in nuts, seeds, legumes, avocados, and cold pressed oils such as extra virgin olive oil.
A + E Emulsion = Super Immunity, Super Fast!


One drop of our supplement contains 15,000 IU of vitamin A (retinol palmitate) and 10 IU of vitamin E (di-alpha tocopheryl acetate). The combination of both antioxidants in high amounts may deliver powerful protection against free radicals, inflammation, and infections. Also, since both fat-soluble vitamins are already emulsified they can be easily assimilated and used immediately within the body. The emulsifier in the formula keeps both vitamins A and E dispersed, which increases the uptake of both nutrients due to its increased bioavailability. No need to shake the bottle prior to each use either!
Give your body powerful antioxidant protection with Vitamin A & E Emulsion today!