Product Summary:
This powerful extract is derived from the hulls of green black walnuts. Fresh Green Black Walnut Wormwood Complex has been used for centuries as an herbal tonic to promote healthy microbial activity. Parasites and other unwelcome organisms would be much happier if you did not take Fresh Green Black Walnut Wormwood Complex!
Wormwood (Artemisia absinthium) is an herb that has been used by many cultures to support intestinal health.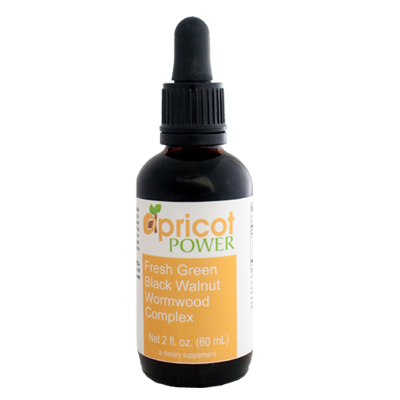 What's Eating You?
There are many kinds of micro-organisms on our planet. Some are beneficial, but most are just harmful and even lethal. They can come from the outside or the inside, such as parasites.
What Are The Chances I Would Have A Parasite?
If you are wondering if you may be carrying around parasites, here are a few potential sources:
our pets
drinking unfiltered water
eating raw or undercooked meat
unwashed or poorly washed raw produce
a toxic diet
traveling to poorly developed countries
unsanitary hygiene habits i.e. not washing your hands before eating, especially after handling raw meat or coming out of the restroom

Serving Size: 2 Droppers full (1.6 ml)
Servings per container: 37

Suggested Use: As an herbal dietary supplement, take 1/2-2 droppersful 2-3 times daily in juice or water, before meals and/or at bedtime. This product is best used by gradually increasing dosage over a two week period with a one week break before repeating. Shake well.

Other Ingredients: Grain alcohol, Distilled Water.

Caution: Do not take during pregnancy. Keep out of reach of children.

Supplement Facts





Serving Size: 2 Droppersful (16 ml)





Amount Per Serving





% Daily Value





A proprietary blend of...
Green Black Walnut Hulls (Juglans species)
Wormwood Herb (Artemisia absinthium)
Clove Buds (Carophyllus specie





1.6 ml





†






† Daily Value not established.