Product Summary:
Pure Synergy's cleansing and regenerative grass juices, algae, seaweeds and enzymes are combined with protective fruits and berries and restorative, adaptogenic herbs and mushrooms to enhance natural detoxification and the radiant energy that results from genuine well-being.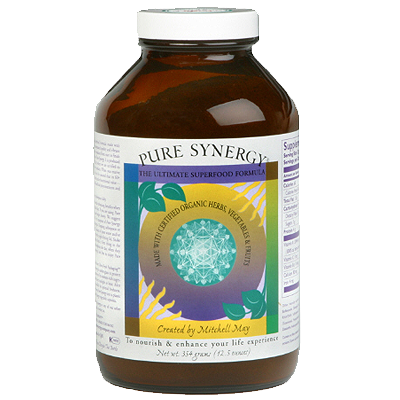 In use for over 35 years, Pure Synergy is an extensively researched flagship formula--blending 60 of nature's most life-giving and nutrient-rich organic whole food and botanical concentrates into a "wellness food" of perfect nutritional potency. Created to help you restore and regenerate your core foundation of wellness, Pure Synergy is the perfect bridge for the many nutritional gaps we all experience in our modern-day diets. Hundreds of health-supporting phytonutrients—found exclusively in Pure Synergy's fruits, sprouts, grasses, vegetables, flowers, mushrooms, sea plants, and herbs—all unite to produce a rare "synergy" that helps rebuild your vitality, mental clarity, and optimal well-being.
Unrivaled Blend of 60 Certified Organic Superfoods
The extraordinary quality of Pure Synergy begins with our hand-selected organic seeds and continues all the way through to its delivery to you. Sustainably grown and harvested when its health supporting nutrients are at their peak, every ingredient contributes in a special way to Pure Synergy's perfectly balanced, full-spectrum formula.

Organic Aquatic Greens
One of earth's most ancient and nutritionally rich life forms, aquatic greens possess an extraordinary collection of concentrated nutrients that deeply nourish your body and mind with their bountiful array of proteins, DNA, RNA, trace minerals and chlorophyll.

Organic Grass Juices and Vegetable Powders
Bursting with regenerative energy, our exclusive fresh grass juices and rich green vegetable powders are harvested at the very peak of their nutritional potency to provide an abundance of beneficial phytonutrients and enzymes as well as purifying chlorophyll.

Organic Freeze-Dried Sprouts
Harnessing all of the elements a plant needs for growth, our organic heirloom sprouted seeds-- with their concentrated energy and bio-active enzymes--are intensely nourishing and powerfully restorative.

Organic Freeze-Dried Fruits
Antioxidant-rich organic wild blueberries, raspberries, apples and green papaya are naturally brimming with valuable bioflavonoids and other rare phytonutrients to protect your cells and feed them with nutritional goodness.

Organic Asian Mushrooms

Our hand cultivated medicinal mushrooms are coveted the world over for their life-extending, immune-supportive, and therapeutic qualities.

Organic Herbal Extracts and Botanicals

Drawn from both Eastern and Western herbal traditions, our specially grown and concentrated organic herbal extracts and botanicals are revered for their long honored ability to balance, regenerate and revitalize your body.
Suggested Use: 1 heaping tablespoon daily. If using for the first time, begin slowly. It is suggested that you start with 1/4 to 1 teaspoon a day and gradually increase to 1 heaping tablespoon or more a day. Mix it with 8 to 12 ounces of pure water and/or your favorite juice in a container with a tight-fitting lid and shake briskly.