Product Summary:
Barley grass juice powder is a superfood and whole food that contains unbelievably high amounts of synergistic nutrients your body needs to remain strong, healthy, and youthful looking. Apricot Power's Just Barley Green Juice Powder is raw, vegan, and gluten-free. Barley grass is also an important part of the B17 essentials regimen.
Works Great With B17!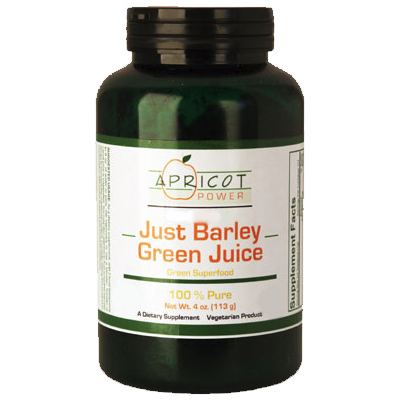 A different kind of grass

Barley grass is one of the top superfoods recommended by experts in the natural health movement. What makes a food super compared to other foods is the density and concentration of nutrients, particularly those not commonly found in most foods.
This superfood's nutrients are believed by natural health advocates to correct deficiencies and detoxify the body faster and in a greater degree compared to regular fruits and vegetables. With every serving of barley grass juice powder you are consuming a wide spectrum of nutrients that normally require a combination of different foods or supplements.

A great food for an added nutritional boost in your diet!

Where do cows get their protein, vitamins, and minerals such as calcium and iron? From a mono-diet of grass. The grass that they eat, though, is not fit for human consumption. But barley grass is, and so is its cousin wheatgrass. Barley grass is exponentially nutritious. It is a whole food that contains more than a whopping 180 naturally occurring vital nutrients such as:

13 vitamins, at least 78 minerals including trace minerals , 20 amino acids, 17 enzymes, Chlorophyll, antioxidants and other powerful phytochemicals!

That's impressive, don't you think? But wait!

Scientists are not yet done counting all the phytochemicals in barley grass, so it may possibly have even more than 180 nutrients!
Oh, and barley grass actually contains more calcium than milk. Chew on that!

Achieve Optimum Energy and Strength from Juiced Grass!

Barley contains all the essential amino acids plus twelve non-essential amino acids in highly digestible form. Amino acids are involved in energy production and muscle development. This makes barley a perfect addition in a body-builder's and endurance athlete's diet. It is great as an energizing pre-workout and rejuvenating post-workout food since amino acids are also essential for muscle recovery and repair.

ORAC levels shooting through the roof!

Plant foods are given a certain score called ORAC (oxygen radical absorption capacity) rating, which determines their antioxidant capacities. The higher the number, the more potent a food's phytochemicals are. In other words, the higher the score, the more healing and anti-aging a food is. Barley grass happens to have an ORAC rating of 1,275 per 5 grams! Fifty grams of broccoli, spinach, or kale doesn't even contain half as much.

Pleasantly Tasty

Barley grass, though rich in chlorophyll, doesn't have the characteristic bitter or "green" taste that green vegetables have. Barley grass is actually very palatable, with a small hint of sweetness. It is, after all, a cereal grass. It mixes well with juices, smoothies, soups, salads, and even plain H20. No more excuse to avoid your daily greens.

Apricot Power's Just Barely Green Juice Powder is grown from select seeds in the mineral-rich soil of an ancient volcanic lake bed. It is irrigated by pure mineral water and harvested young when it is at the peak of nutrition. Our product is processed on site to ensure freshness and is guaranteed to be 100% pure, natural green barley extract juice powder- without any filler such as brown rice. A truly raw product, it is dehydrated at a very low temperature of 88º F to lock in nutritional potency and to preserve heat-sensitive enzymes.
Suggested Use: As a dietary supplement, add 1 level teaspoon to 8 oz. of water or juice 3 times daily. Stir vigorously or use a blender. Tomato or carrot juice is suggested. You may also add this to fruit smoothie blender drinks to increase the nutritional content. Consider taking this product in combination with Detox Support and Probiotic Defense.

Free of: sugar, salt, starch, yeast, wheat, corn, soy, milk, egg, shellfish, or preservatives.
Supplement Facts

Amount Per Serving

% Daily Value

Calories

5

Total Fat

0 g

0%*

Total Carbohydrate

0.5 g

< 0.5%*

Protein

0.3125 g

1.5%*

Organic Barley Grass Juice

2.15 g (2,150 mg)

Each serving may typically provide the following naturally occurring nutrients

Beta-Carotene (as pro-Vitamin A 900 mcg)

750 IU

15%

Vitamin K

67.5 mcg

84.5%

Calcium

10 mg

1%

Iron

0.25 mg

2%

Magnesium

7.5 mg

2%

Chlorophyll

20 mg

�

* Percent Daily Values are based on 2,000 calorie diet.
% Daily Value not established.